3 Tech Stock Stories Ready for a Monday Download
Google Inc. (NASDAQ:GOOG): Closing price $1026.40
Google's Executive Chair Eric Schmidt has spoken his mind concerning reports that the United States government allegedly spied on his company's data centers, characterizing such an action as "outrageous" and potentially illegal if it can be proven. Schmidt remarked to the Wall Street Journal in an interview that, "It's really outrageous that the National Security Agency was looking between the Google data centers, if that's true. The steps that the organization was willing to do without good judgment to pursue its mission and potentially violate people's privacy, it's not OK. The Snowden revelations have assisted us in understanding that it's perfectly possible that there are more revelations to come."
Nuance Communications Inc. (NASDAQ:NUAN): Closing price $15.99
Nuance shares are up by about 2.60 percent near the close Monday, as Deutsche Bank says the 30-percent year-to-date sinking in shares as a buying opportunity. The firm believes that Nuance's market opportunity and competitive position are still relatively strong, and that the company's fourth-quarter results may herald a turning point. DB reiterates its Buy on the stock along with a $24-price target.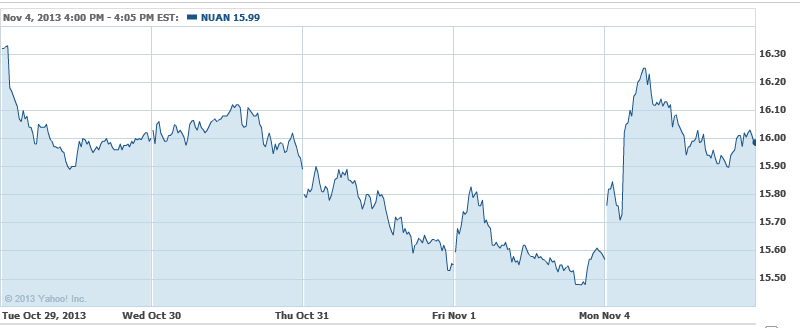 Qualcomm Inc. (NASDAQ:QCOM): Closing price $69.54
Qualcomm's business unit Qualcomm Technologies Inc. will provide its Snapdragon 800 processors to Google's Nexus 5 smartphones, powered with Android 4.4 Kitkat operating platform. Nexus 5 will be joined with Qualcomm's most recent QFE1100 tech, marking the world's first envelope tracking tech for 3G/4G LTE devices, which employs Qualcomm's RF360 front-end solution. Qualcomm RF360 makes easy multiple bands of frequencies in one device. Beyond that, RF360 combined with QFE1100 will further drive device performance by lowering power consumption, increasing battery life.

Don't Miss: Another iOS Executive Bails on Apple.