3 Telecom Stocks Seeing Action: AT&T Brings Solar Charging to NYC, Sprint Sues Dish, and T-Mobile's MetroPCS Migration
AT&T (NYSE:T): There are few inconveniences worse than losing charge in your phone when you need it most. Fortunately, AT&T has set out to help solve this issue, but placing 25 solar-powered charging stations around parks, beaches, and other outdoor spaces in New York City. The stations can accommodate up to six devices at a time — regardless of wireless carrier — with dedicated ports for iPhones, Androids, BlackBerrys and standard USB charging cables.

Sprint-Nextel (NYSE:S): Sprint has filed a lawsuit in efforts to end Dish Network's (NASDAQ:DISH) bid for Clearwire (NASDAQ:CLWR), claiming that the deal — which was endorsed by Clearwire — violated Delaware law as well as the rights of Sprint and other "strategic" Clearwire investors. Included in Sprint's claims, the company says that the Dish offer can't be concluded without the approval of both Comcast (NASDAQ:CMCSA) and Clearwire shareholders owning at least 75 percent of the shares.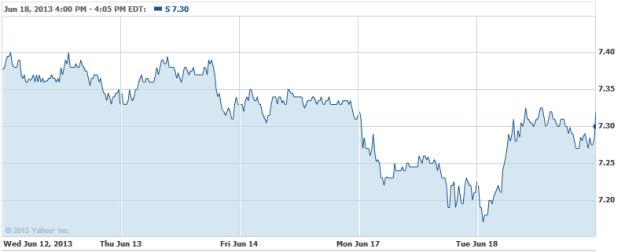 T-Mobile (NYSE:TMUS): T-Mobile is ahead of schedule in terms of migrating its MetroPCS users to onto its 4G HSPA+ and LTE network, putting it on pace to cover 100 million people with LTE by the end of June and 200 million by the end of 2013. As customers leave the MetroPCS network, the freed up spectrum can then be added to the company's growing 4G LTE network, benefiting both T-Mobile and MetroPCS subscribers.

Don't Miss: Is Samsung Not the Apple Rival It's Billed As?