3 Telecom Stocks Seeing Action: AT&T Explores Europe, Vodafone Avoids Brazil, T-Mobile's Bond Offer
AT&T (NYSE:T): AT&T Chief Executive Randall Stephenson visited Europe on Tuesday in an effort to negotiate with European regulators regarding a potential investment there. The current fragmented regulations, high unemployment, and price wars in the European market, combined with a slowdown in U.S. growth, have AT&T contemplating investing in Europe during the early stages of the transition to high-speed mobile data.

Vodafone PLC (NASDAQ:VOD): Vodafone is reportedly uninterested in buying Telecom Italia's (NYSE:TI) TIM Participacoes Brazilian unit, despite having $130 billion to throw around after the buyout of its share of Verizon Wireless is executed. Telecom Italia's recent trouble has spurred speculations that it will put TIM up for sale, though it's apparently not the type of acquisition that Vodafone is looking to make.

T-Mobile US (NYSE:TMUS): T-Mobile launched an offering of bonds totaling 3.1 billion on Tuesday, which Deutsche Telekom says will be used for general corporate purposes. The bonds are set to be offered in two series of 1.25 billion each and one of 600 million.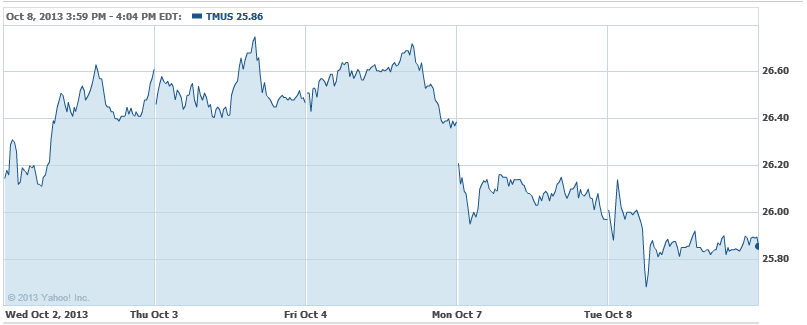 Don't Miss: Here's How Hackers Are Duping AT&T Customers.