3 Telecom Stocks Seeing Action: AT&T's CIA Pact, Verizon Holds Out on Google, T-Mobile Nets Nexus
AT&T Inc. (NYSE:T): AT&T is raking in about $10 million per year from the CIA to assist with overseas counterterrorism investigations and efforts by serving up its vast troves of phone records for the intelligence agency's use. However, rather than use subpoenas or court orders, the arrangement is carried out via voluntary contract; the CIA supplies the phone numbers of overseas terrorism suspects and AT&T searches its database and provides records of calls that may help identify foreign associates, The New York Times reports.

Verizon Communications (NYSE:VZ): Verizon is still holding out on allowing Google Inc.'s (NASDAQ:GOOG) Nexus 7 tablet onto its 4G LTE network, but the carrier is now blaming the maker of the device for the issues. Initially, Verizon maintained that the Nexus 7 had to go through a "certification process" that "generally takes only between four and six weeks." Yesterday, though, Verizon issued a statement saying that it had "uncovered a systems issue that required Google and Asus to undertake additional work with the Jelly Bean OS running on the device."

T-Mobile US (NYSE:TMUS): The LG Nexus 5 will be making its debut on T-Mobile's network on November 20 "across all channels." Given that it's not a confirmed development, pricing and other information are not available; however, TmoNews notes that "in the past — our magenta flavored carrier has been known to launch devices on Wednesdays/Thursdays, so it could well fit."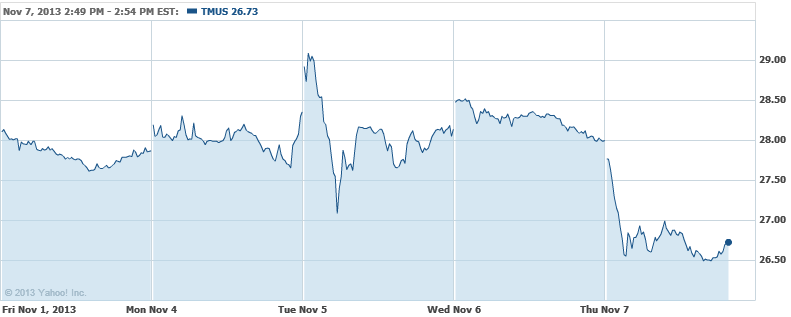 Don't Miss: This Privacy Concern Could Ruin AT&T's European Plans.