3 Telecom Stocks Seeing Action: AT&T's Debt Plan, T-Mobile's Colorful Suit, Sprint Cuts 800 Jobs
AT&T Inc. (NYSE:T): The second-largest American carrier will pay $556 million to redeem 6.625 percent notes due in October 2034, including $550 million for the principal and $6 million for the call premium. Seeking Alpha reports that AT&T had $76.2 billion in debt on its balance sheet as of June 30, and $8.4 billion in cash and investments. The company has recently slowed its buyback activity, although it has still managed to spend $3.3 billion to repurchase shares in the second quarter.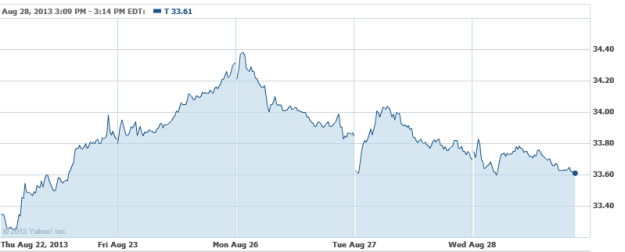 T-Mobile US (NYSE:TMUS): T-Mobile has filed suit in federal court alleging that AT&T's Aio Wireless has committed trademark infringement and engaged in unfair business practices by using a hue that is too similar to the magenta used by T-Mobile, Ina Fried at AllThingsD reports. T-Mobile is hoping that the court will force Aio Wireless to stop using the color in question and turn over a share of what it believes are the company's undeserved profits. Naturally, AT&T says the suit is without merit.

Sprint Corp. (NYSE:S): Sprint will be axing 800 customer service jobs due to declining traffic at its calling centers, Time says. However, job growth in other aspects of the business will offset the losses, allowing the company to keep its headcount above 40,000. The company said the cuts are at various locations across the country.

Don't Miss: Why Is This Nonprofit Trying to Put Sirius XM in the Penalty Box?