3 Telecom Stocks Seeing Action: AT&T's Tower Sale, Vodafone Banks on Verizon Stake, T-Mobile Goes Global
AT&T Inc. (NYSE:T): AT&T has agreed to lease and sell its tower portfolio to Crown Castle International (NYSE:CCI) for $4.85 billion in upfront proceeds, forfeiting the rights to Crown Castle to lease about 9,100 AT&T towers, and selling about 600 others. The average term of the lease rights is roughly 28 years; following the lease expiration, Crown Castle has the option to purchase the towers for approximately $4.2 billion.

Verizon Communications (NYSE:VZ): The senior team of 250 managers at Vodafone Group (NASDAQ:VOD) will make 56 million British pounds upon the completion of the sale of its 45 percent stake in Verizon Wireless to Verizon Communications for $130 billion, and it has pledged to use a part of the proceeds from the sale to pay 112 pence per share to its stockholders in cash and Verizon shares. Vodafone CEO Vittorio Colao will receive more than 10 million pounds alone from the deal.
T-Mobile US (NYSE:TMUS): The third installment of the Uncarrier plan went live on Sunday, expanding the effective coverage for T-Mobile customers to more than 100 countries around the globe. Gone are roaming bills, as Simple Choice plan users can visit 115 global destinations covered under the "Simple Global Roaming" initiative and be able to use basic data services for free, as well as text free of charge, according to T-Mobile.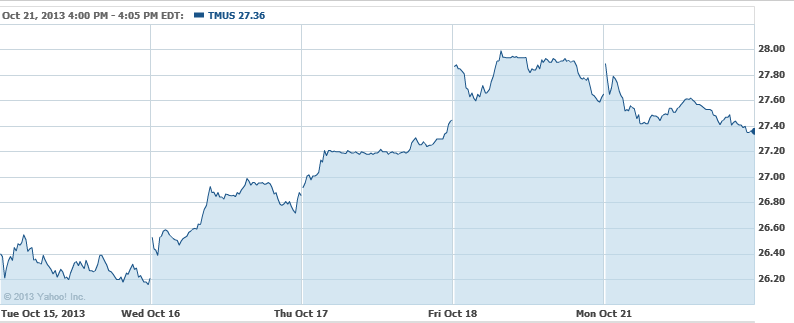 Don't Miss: Will Nokia Make a Bid for Alcatel-Lucent's Wireless Unit?