3 Telecom Stocks Seeing Action: Buyout May Hurt Verizon, Softbank Maintains Sprint Offer, Leap's Mixed Quarter
Verizon (NYSE:VZ): Stifel is not convinced that Verizon will benefit from the Vodafone (NASDAQ:VOD) deal, and that a purchase of Vodafone's stake would significantly dilute currrent Verizon shareholders, as well as raise the company's cash interest and tax expenses. The firm finds that the costs associated with the deal may ultimately outweigh the benefits for Verizon, and keeps a Hold rating on the stock.

Sprint-Nextel (NYSE:S): Softbank CEO Masayoshi Son took to the offensive on Tuesday, as he reiterated that Softbank would not be raising its offer for the U.S.'s third largest wireless carrier. As Sprint's board is carfully reviewing the bid put forward by Dish Network (NASDAQ:DISH), Son called the bid "illusory and incomplete," and added that Softbank can close the deal up to a year faster than Dish and brings industry expertise and cash to Sprint, he said.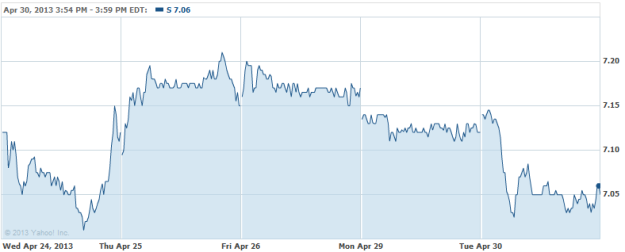 Leap Wireless (NASDAQ:LEAP): Earnings per share of -$1.43 fell short by $0.23, but revenues of $789.9 million blew past estimates, by $51.4 million, though it still represented a decrease of 4.3 percent. The company booked about 393,000 new core wireless additions, though lost 9,000 wireless subscribers. "Core wireless" refers to the Company's traditional, monthly voice service (Cricket Wireless) and excludes customers for Cricket Broadband and Cricket PAYGo," the release said.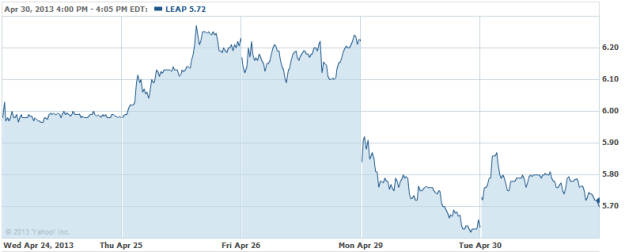 Don't Miss: Could Microsoft Be Ahead of the Curve?