3 Telecom Stocks Seeing Action: HHS Calls on Verizon, AT&T Wins Nokia's 1520, T-Mobile's Big HTC Update
Verizon Communications (NYSE:VZ): Following the recent controversy over the launch of the federal health exchange, telecommunications giant Verizon has been asked by the Department of Health and Human Services to address the failures of the website Healthcare.gov, a crucially important element in the implementation of the Affordable Care Act; the department said that it will be drawing on civilian companies in order to help resolve Healthcare.gov's problems more quickly.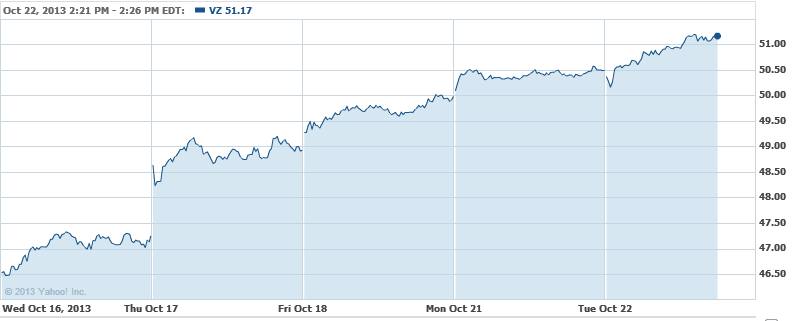 AT&T Inc. (NYSE:T): AT&T is poised to become the sole carrier of a new Nokia (NYSE:NOK) device, the Nokia Lumia 1520, in the United States. Nokia on Tuesday announced the release of the new, 6-inch Windows Phone "phablet." The news is no surprise; AT&T has long been Nokia's preferred carrier in the U.S. The Lumia 1520 will retail unsubsidized for $749 and will likely carry an on-contract price of roughly $299.

T-Mobile US (NYSE:TMUS): T-Mobile announced Monday that it will release the new Android 4.3 update for the HTC One. The update includes better graphics rendering thanks to OpenGL ES 3.0, a new quick controls button, Bluetooth low-energy support, additions to the Video Highlights themes as well as the ability to personalize Video Highlights using your own music, daydream standby functionality, and improvements to the camera for low-light environments.

Investing Insights: Is AT&T Oversold At Current Prices?