3 Telecom Stocks Seeing Action: Sprint's Buyout Mess, AT&T Prolongs Upgrade Period, and T-Mobile Slated for Softbank's Plan B
Sprint-Nextel (NYSE:S): What was supposed to be a fairly straight-forward acquisition has now become a significantly cloudy ordeal that has both Sprint and its original suitor SoftBank exploring alternatives to a buyout. Sprint is currently waiting on Dish Network (NASDAQ:DISH) to formalize its $25.5 billion bid for the carrier, which could trump SoftBank's original $20.1 billion bid. To make things more confusing, Dish is also pitching a bid for Clearwire Corp. (NASDAQ:CLWR), of which Sprint is a majority owner.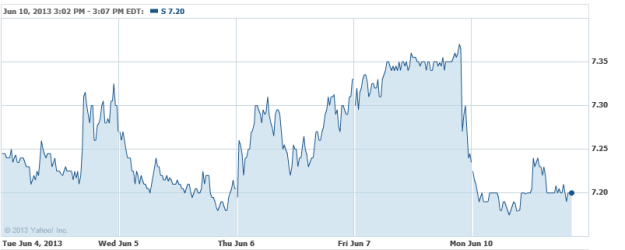 AT&T (NYSE:T): After Verizon (NYSE:VZ) paved the way back in April, AT&T is following suit, making subscribers wait a full two years before being eligible to upgrade their devices at subsidized rates, up from the the current 20 month policy. The change affects those whose contracts are up in March 2014 or later, AllThingsD reports.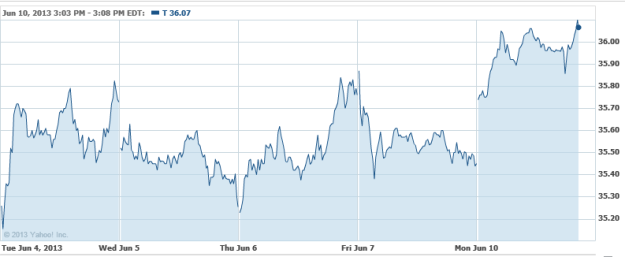 T-Mobile (NYSE:TMUS): In the event that Softbank's bid for Sprint falls through, the Japanese firm has reportedly lined up talks with T-Mobile as an acquisition target to discuss taking the reigns of Deutsche Telekom's 74 percent position in the carrier. Sprint shareholders are scheduled to vote on the Softbank deal on Wednesday.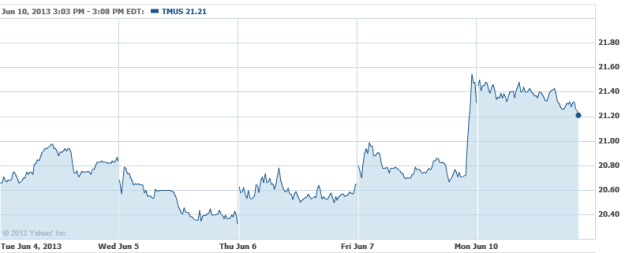 Don't Miss: Was Steve Jobs Inspired by Sony?