Sprint Nextel (NYSE:S): Sprint has come away from the recent quarter exceeding both earnings and revenue expectations. Earnings per share of -$0.21 beat by $0.09, and revenue of $8.79 billion beat by $0.08 billion. Wireless network revenue of $7.1 billion is the highest figure recorded ever, as a result of a record number of subscribers — 53.9 million, to be specific. "This is a transformative year for Sprint and we've gotten off to a good start," said Dan Hesse, Sprint CEO. "Record Sprint platform service revenue and subscriber levels fueled our performance. We achieved significant Adjusted OIBDA growth (some 25 percent) while investing heavily to improve our network, expanding our 4G LTE footprint and offering customers the best smartphones with truly unlimited data plans."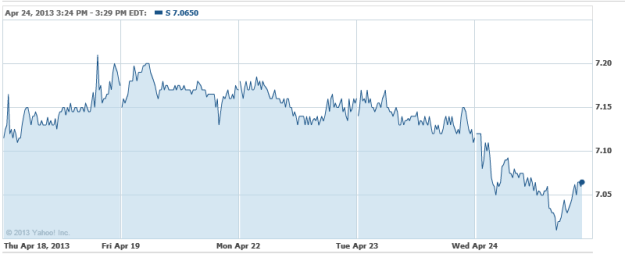 AT&T (NYSE:T): Wells Fargo (NYSE:WFC) was surprised by decelerating growth in the company's wireless ARPU, and noted that the Business Solutions revenue has dropped over 3 percent year-over-year. However, it remains confident that the free cash flow and dividend remain strong, and maintains its Outperform rating on the shares.

MetroPCS (NYSE:PCS): MetroPCS shareholders have voted to accept the takeover offer by T-Mobile, after the company sweetened its offer for the company. In the deal, T-Mobile can add 9 million pre-paying customers to its books, and will add more wireless spectrum to its portfolio, which will in turn help boost the speed and quality of its network. Deutsche Telekom (T-Mobile's parent) will own 74 percent of the new company, and MetroPCS shareholders owning the remaining stake.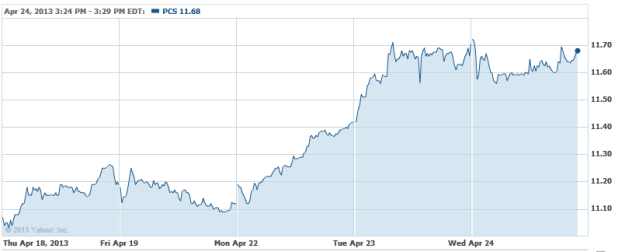 Investing Insights: What Do These Factors Say About Level 3 Communications?