3 Telecom Stocks Seeing Action: T-Mobile Gets a Nod, Verizon's Supply Problem, AT&T Shines
T-Mobile US (NYSE:TMUS): Goldman added T-Mobile to the Conviction Buy List based on expectations that operating momentum continued into the third quarter, postpaid growth was above consensus, and increasing prepaid contributions; the firm rated T-Mobile shares a Buy with a $32 price target.
Verizon Communications (NYSE:VZ): Fran Shammo, the CFO of Verizon, said that some customers would have to wait to receive their iPhones due to a backlog in supply. The news is not all bad for Verizon, since it means that it has seen more demand for the new product than expected through its wireless services. This comes after Verizon delivered earnings that beat expectations earlier this week.

AT&T Inc. (NYSE:T): AT&T ranked atop a list of the companies that are investing the most money in capital expenditures in the United States, the Progressive Policy Institute reports. AT&T invested nearly $20 billion in the U.S. in 2012, according to the report, which noted that the telecommunications sector was, along with energy, one of the highest sectors in terms of domestic capital expenditures in the current economy.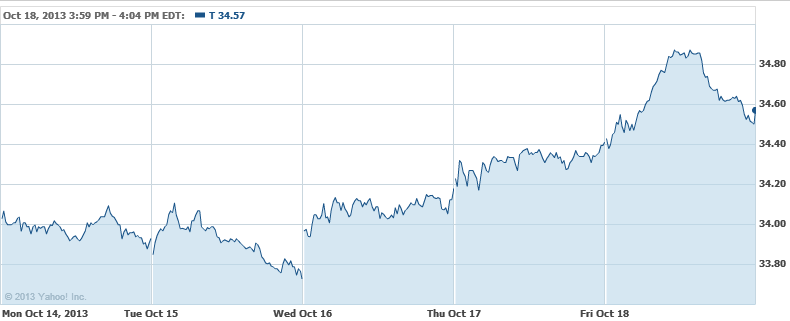 Don't Miss: Google Hits $1,000: Here's Who's Getting Rich.