3 Telecom Stocks Seeing Action: T-Mobile on the iPhone, Sprint Starts a Feud, and AT&T Delighted With FCC Pick
T-Mobile USA (NYSE:TMUS): With its merger completed and booked, MetroPCS brings a pool of  nine million new subscribers to T-Mobile, growing the opportunity for manufacturers like Apple (NASDAQ:AAPL) to push more higher-end phones that the MetroPCS users didn't previously have access to. If you're a Metro subscriber now, don't get your hopes up — T-Mobile CEO John Legere said that the company was open to the idea of putting the iPhone on the smaller network, but that it was not a priority.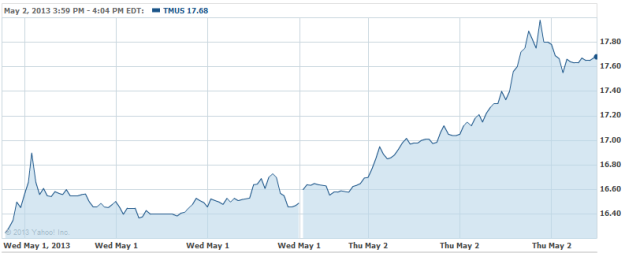 Sprint-Nextel (NYSE:S): The bidding war over Sprint between Japan's Softbank Corp. and Dish Network (NASDAQ:DISH) is heating up, as Dish's CEO Charlie Egren took some swings at Softbank's bid, following comments made by its CEO, Masayoshi Son. "We're offering a higher price. That's just math," Egren said. "We are an American company, and the modernization of Sprint's network will have to be done from the U.S. You have to climb the towers here, and you'll have to have U.S. employees who speak English. Operations command control will be in America. That's good for jobs. It doesn't mean that the other guys are bad. It's just that we have an advantage." Earlier this week, Son had passed some jabs of his own, calling Dish's bid "incomplete and illusory." Read more about the Dish-Softbank Feud.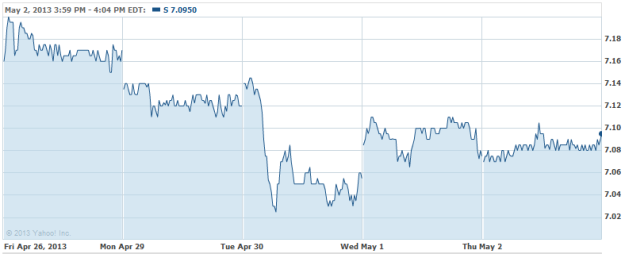 AT&T (NYSE:T): On Thursday, President Obama announced his nominee to lead the Federal Communications Commission. His pick is Tom Wheeler, a venture capitalist and former lobbyist at the top of the cable and wireless industries. AT&T was delighted by the news, calling Obama's pick "inspired." However, what could be great news for the company may be bad news for consumers. AT&T had a beef with outgoing FCC chairman Julius Genachowski, when it blocked its attempts to merge with T-Mobile for antitrust reasons. So which allegiance will the next FCC chair choose to side with?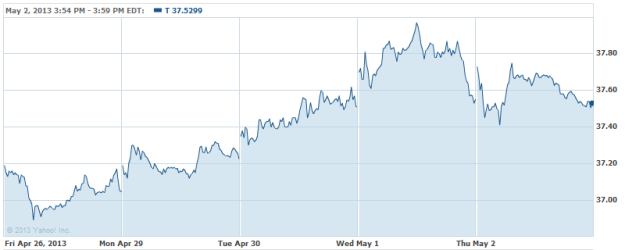 Don't Miss: Will Apple and Samsung Benefit From Sony's SmartWatch Failure?