3 Telecom Stocks Seeing Action: T-Mobile Rides Upgrade, Sprint Gets MotoMaker, Vodafone Gains on AT&T Talk
T-Mobile US (NYSE:TMUS): Canaccord has hiked its rating on T-Mobile to Buy, up from Hold, after the carrier reported on Tuesday that it had made strong gains and initiated a subscriber guidance increase. The firm put a $33 price target on the shares, up from $25.

Sprint Corp. (NYSE:S): AT&T users were given Motorola's MotoMaker program since launch, but now Sprint subscribers will be able to take part in the fun, as well, starting on Monday. Phandroid reports that the news comes courtesy of a leaked document that was taken from an internal Sprint source; the program allows subscribers to change the colors of their phones, choose between internal storage, and pick the power-on message, among other things, Phandroid reports.

Vodafone Group PLC (NASDAQ:VOD): Vodafone's shares saw gains during trading on Wednesday as renewed discussions of AT&T's interest in the carrier resurfaced. Analyst chatter has pegged the likelihood of an AT&T-Vodafone deal at 75 percent, and would attribute a merger to a distraction from the rough patches that each carrier has been experiencing.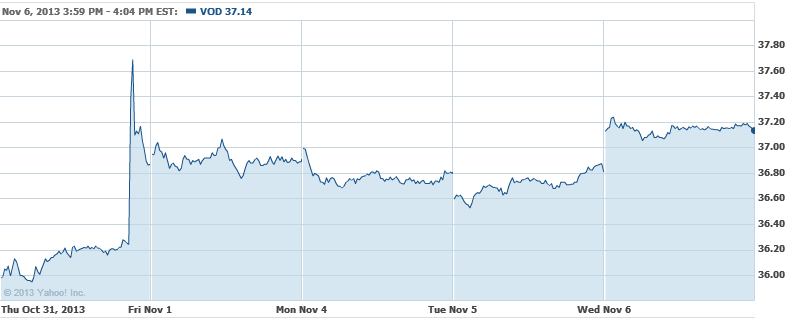 Investing Insights: Is T-Mobile Poised to Rise After Earnings?