3 Telecom Stocks Seeing Action: T-Mobile's Blackout, Softbank's Plans for Sprint, and AT&T Gets the One Mini
T-Mobile (NYSE:TMUS): After dropping service for some customers, the company took to the internet to apologize for the issue. CEO John Legere told the Twittersphere that, "Sorry. There is/was a network issue in a few areas. I am working on it with team. It is being resolved quickly." In a separate email to AllthingsD a spokesperson said that, "There were intermittent issues in some locations. We apologize for any inconvenience this may have caused to our customers." Shares are lower after the news.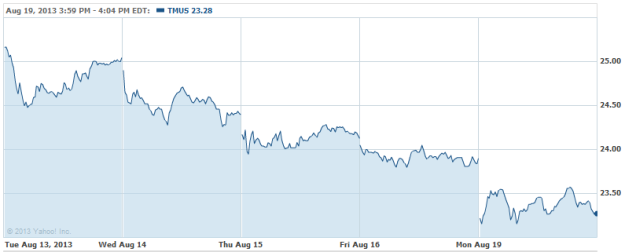 Sprint (NYSE:S): Softbank has unveiled a massive capital spending spree designed to improve the company's finances and improve infrastructure as Sprint looks to more aggressively tackle the 4G LTE space. Softbank is also eying potential cost cutting at the mobile company — up to $3 billion in savings by combining various purchases of base stations with those acquired in the United States.

AT&T (NYSE:T): Though the buzz over the HTC One is mostly centered around Verizon's (NYSE:VZ) long overdue acquisition of the device, the phone's little sibling — the One Mini — will be hitting AT&T on Friday. The smaller version features an aluminum body and a 4.3-inch screen, LTE-capable, weighs 21 grams less, 5.4 mm shorter/5 mm less wide, and just barely thinner than the 4.7-inch full size phone on which it is based.