T-Mobile US (NYSE:TMUS): T-Mobile, just days after pricing a $1.65 billion stock offering, has announced a follow-up offering of $2 billion worth of senior notes, due 2022 and 2024. The proceeds from the sale will be used toward "general corporate purposes, including capital investments, enhancing its financial flexibility and opportunistically acquiring additional spectrum in private party transactions and/or government auctions."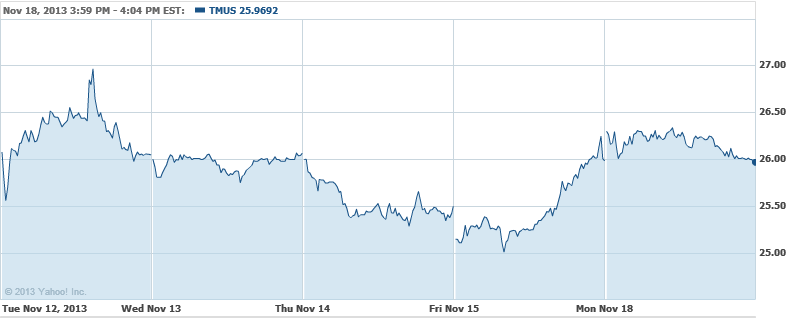 Sprint Corp. (NYSE:VZ): Sprint will be teaming up with Best Buy to offer the My Way Student Promotion, which provides students with a full year of calls, text messages, and data from Sprint, for free. To qualify for the offer, buyers must buy a Sprint phone at the student-activated price through Best Buy and activate a new line through Sprint's Unlimited My Way plan. At base, talk and texting is unlimited, though data is limited to 1GB per month for smartphones. Unlimited data can be had, however, at $10 per month.

Verizon Communications (NYSE:VZ): For Verizon customers holding out for the new Nokia Lumia 2520 tablet, the gadget should be hitting stores on November 21, wearing a price tag of $399.99 for a limited time, The Verge reports. Soon after, the price will go back up to $499.99; users will be able to add the tablet to their Share Everything account for $10 per month.

Don't Miss: 8 Companies Dominating Online Video.