3 Telecom Stocks Seeing Action: T-Mobile's Stock Dealings, AT&T's Nokia Lumia 2520, Verizon Pays Up
T-Mobile US (NYSE:TMUS): T-Mobile has made an offering priced at $25 per share, 2 percent below Thursday's close, and 7 percent below where shares were trading when the offering was announced on Monday. In total, T-Mobile is moving 66.15 million shares with gross proceeds set to total $1.65 billion. The carrier's share count is slated to grow by 9 percent.

AT&T (NYSE:T): AT&T will be launching the Nokia Lumia 2520 tablet next week on November 22. The tablet, which has a screen measuring over 10 inches as well as a keyboard, will come equipped with LTE capabilities to make use of AT&T's network. The tablet will cost just shy of $400 to obtain when it is launched.
Verizon Communications (NYSE:VZ): Verizon will have to pay $50 million to the city of New York in order to make up for delays that the company incurred when rolling out the city's 911 communications systems. Officials have said that the system has been working fine since it was deployed, and that it is only for the delays that the company is paying.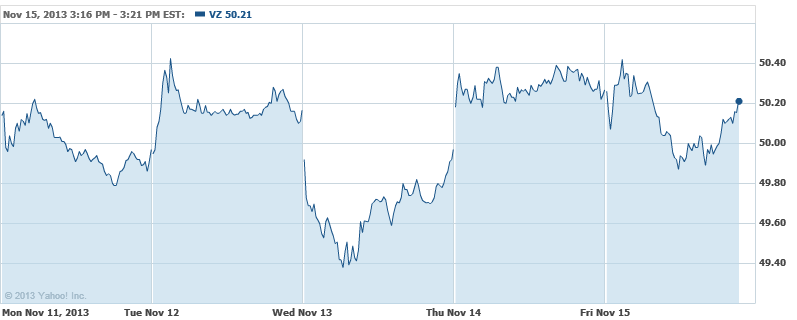 Don't Miss: Samsung Admits That It Infringed on Apple's Patents.