3 Telecom Stocks Seeing Action: Telefonica's Czech Deal, T-Mobile's iPad Catch, AT&T's Latest S4 Variant
Telefonica S.A. (NYSE:TEF): Telefonica may finalize the sale of a 69 percent stake in its Czech telecom unit to Dutch financial holding company PPF Group as early as Monday; the deal is valued at about 2.5 billion euros. The sale is representative of Telefonica's drive to shed noncore assets and raise enough capital to pay down its substantial amount of debt.
T-Mobile US (NYSE:TMUS): In order to score a new iPad from T-Mobile, users are going to have to sign on for a $20 per month plan, CNET is reporting. T-Mobile said that new customers who want to take advantage of T-Mobile's no-money-down plan are required to sign up for a $20 per month plan, whereas the On Demand plan was merely a fee ($10 per month) for staying on T-Mobile's network. CNET adds that the 200MB of data is "free" but doesn't kick in until after the user signs up.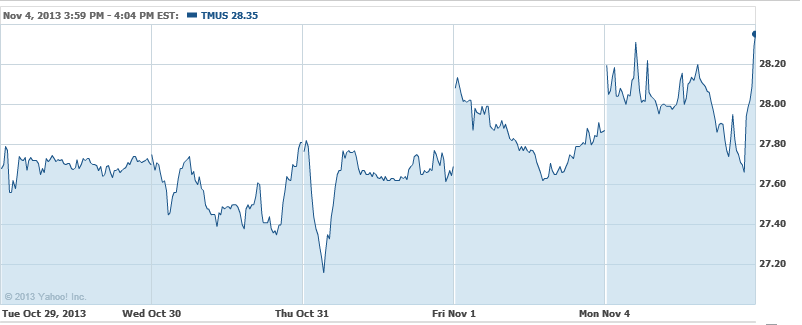 AT&T Inc. (NYSE:T): Starting Friday, AT&T will begin offering the Samsung Galaxy S4 Zoom, which sells for $199. Equipped with Android 4.2 Jelly Bean, the S4 Zoom's camera features a 10x optical zoom, optical image stabilization, and a Xenon flash. The phone — which sounds like more of a camera with the phone as secondary — will also sport two dozen custom shooting modes in addition to Samsung's existing app suite.
Don't Miss: Here's Why India May Soon Become Apple's Next Big Market.