3 Telecom Stocks Seeing Action: Telefonica's Czech Sale, a Phablet for Sprint, and AT&T's Starting Plan
Telefonica S.A. (NYSE:TEF): Telefonica is reportedly gearing up for the sale of its Czech unit, worth an estimated $3.6 billion, to raise cash for further industry consolidation, sources told Bloomberg. Major carriers like Deutsche Telekom AG and Vodafone Group are unlikely going to receive regulatory clearance, opening the doors for private equity firms to place bids on Telefonica's 69 percent stake in the venture.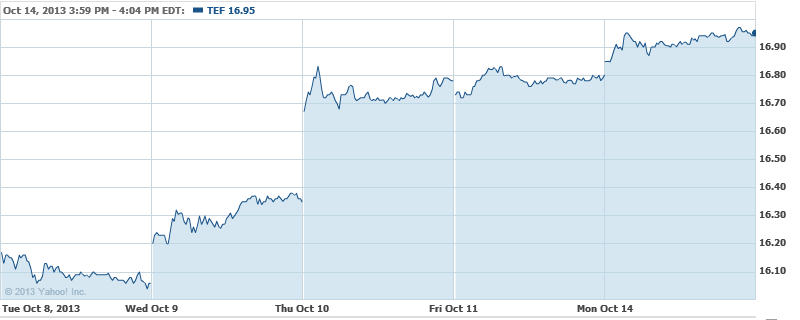 Sprint (NYSE:S): Sprint announced plans to carry the HTC One Max the same day the phablet was announced. There has been some speculation as to which other carriers will offer the product, with rumors that some of the other three major wireless providers could jump on board soon.

AT&T (NYSE:T): Starting later this month, AT&T will offer only its Mobile Share plan for new customers of the wireless carrier. The company said that more than 90 percent of its new customers choose the plan anyways, so it simplifies matters to only offer that plan. The company said that existing customers will be allowed to keep their current plans, whatever they may be, so the move is unlikely to cause much, if any, negative feedback from AT&T users.
Don't Miss: Is T-Mobile the Most Traveler-Friendly Carrier?