3 Telecom Stocks Seeing Action: Verizon and ESPN Rumors, AT&T Slashes Facebook Phone Cost, Sprint Gets ISS Backing
Verizon Wireless (NYSE:VZ): Verizon, along with other large carriers, maybe be able to not just charge consumers for data usage, but content providers as well. ESPN (NYSE:DIS) has reportedly had talks with "a major carrier" about subsidizing users' data plans, so that the caps imposed on data use don't interfere with ESPN's mobile platforms. If this catches on, numerous large companies might step forward to help relieve wireless subscribers to push their mobile applications.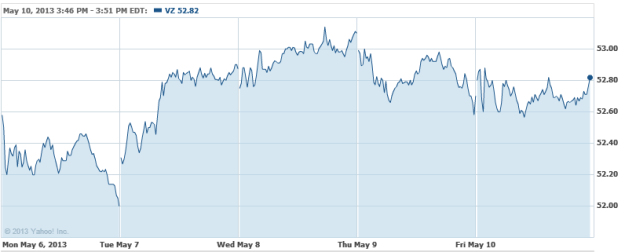 AT&T (NYSE:T): The country's second largest carrier has dropped the price of the HTC One down to $0.99 with contract, a disparaging sign that the handset/Facebook (NASDAQ:FB) combination is not doing so well. The HTC launched on April 12, with a sticker of $99.99, and just about a month later, is down to 1 percent of the original amount. Apparently, with the Facebook functions removed, the HTC One is a decent phone, so if you're looking for an Android phone for cheap, hit up AT&T soon.

Sprint-Nextel (NYSE:S): Proxy advisory firm ISS fully back Sprint's bid for Clearwire (NASDAQ:CLWR), citing "a lack of better options to keep the company afloat." Sprint suitor Softbank is likely thrilled with the backing, while fellow bidder Dish Network (NASDAQ:DISH), probably not as much. Glass Lewis, the second largest proxy firm in the country, is opposed to the deal, given Sprint's failure to provide a clear, compelling case to suggest that its offer is the best possible alternative available to Clearwire.

Don't Miss: Will Record Labels Kill The Apple iRadio Goose?