3 Telecom Stocks Seeing Action: Verizon Beats Expectations, T-Mobile Dumps Plans, AT&T's New Data Pass
Verizon Communications (NYSE:VZ): Verizon shares are up after the company reported earnings per share of 77 cents, beating by 3 cents. Revenues of $30.28 billion also beat projections, by $0.11 billion. Net subscriber adds totaled 1.1 million, with 927,000 retail postpaid net adds. Service revenue rose 8.4 percent in the third quarter, even and outpacing subscriber growth; the wireless operating margin was 33.8 percent, up 140 bps over the second quarter and up 200 bps over 2012. About 67 percent of retail postpaid subs now use smartphones, up from 64 percent in last quarter, and 42 percent use a shared data plan.
T-Mobile US (NYSE:TMUS): T-Mobile will be getting rid of a number of plans as part of its simplification process, by which it is hoping to revamp wireless industry standards. However, this has led many people currently on the wireless carrier's older plans to see their plans go away and forced to be grandfathered in to more expensive plans. T-Mobile said that the price increase is often very slim, coming in at less than $5 per month for a good number of customers, and that the changes are worth it for the sake of simplification.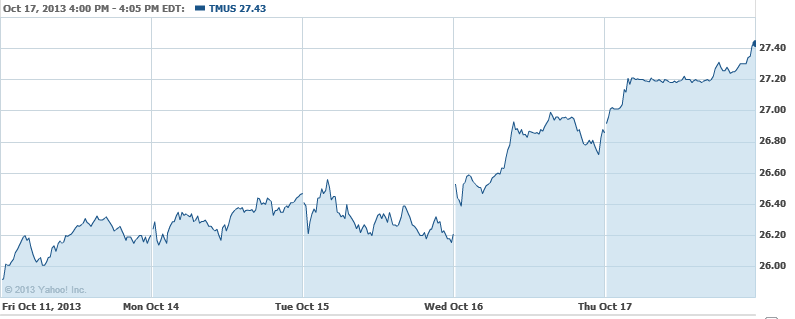 AT&T Inc. (NYSE:T): Chris Penrose, a vice president at AT&T, announced that the company will be selling a one-day data pass for tablet users. The plan provides 250 MB of data to be used anytime during a 24-hour period and is designed to compete with options like hotel Wi-Fi, which can be very expensive. The price tag on the plan is $5, with an expanded, three-month plan available for $25, as well.
Don't Miss: Verizon Not Getting Hurt by Rivals' Tricks.