3 Telecom Stocks Seeing Action: Verizon Bonds Find Big Fans, T-Mobile's Record Share, AT&T Adds LTE
Verizon Communications (NYSE:VZ): Pimco and Blackrock (NYSE:BLK) collectively picked up more than 25 percent of Verizon's enormous $49 billion bond sale Wednesday, which allowed the carrier to bring in the money all at once, rather than in pieces, as it had originally planned. Pimco took in $8 billion in bonds and BlackRock walked away with $5 billion; Seeking Alpha notes the two companies were also influential in persuading Verizon to price the debt at an above-market rate.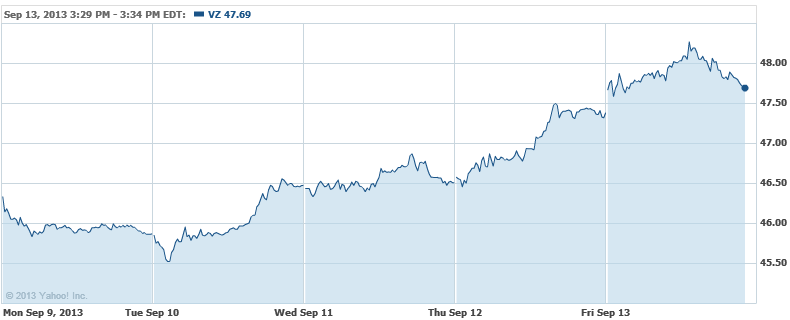 T-Mobile US (NYSE:TMUS): Chief Marketing Officer Mike Sievert said T-Mobile, the fourth-largest U.S. carrier, had a record share of gross postpaid subscriber ads in August, as the Jump program and the company's subsidy and contract-free initiatives took effect. T-Mobile had a steady hemorrhage of users throughout 2012, though its second-quarter results from this year saw unprecedented gains of about 688,000.
AT&T (NYSE:T): AT&T's 4G LTE footprint has grown and now encompasses nearly 240 million people in 400 different markets. The company, which said the LTE network would be "substantially complete by summer 2014," added during its announcement that more than 35 percent of postpaid subscribers are now using a 4G LTE capable device.

Investing Insights: Will Vodafone Stock Continue to Rise?