3 Telecom Stocks Seeing Action: Verizon Charged in Data Fee Suit, Leap Jumps on Takeover Viability, and Sprint-Softbank Merger Clears the FCC
Verizon Communications Inc. (NYSE:VZ): The FCC has been told that Verizon collected $240 million or more from false data charges, significantly more than the $53 million it promised to refund to customers. Thousands of Verizon Wireless customers complained about the $1.99 data charges on their cellphone bills, which occurred even when the phones were off, with the battery removed, and when the users had not used the Internet functions. A Verizon spokesman said the allegations were without merit, but would not comment further.
Leap Wireless (NASDAQ:LEAP): Shares are surging today after a note from Macquarie's Kevin Smithen, who raised the firm's rating on Leap to Neutral from Underperform, noting changes to Leaps debt maturities and the increased likelihood of a takeout by T-Mobile US (NYSE:TMUS) or Dish Network (NASDAQ:DISH). "Leap stock is tightly controlled by a few holders and this can be both a catalyst and an obstacle for a sale," he wrote. "We believe that a buyer would have to pay at least $10 to acquire Leap, and perhaps higher."

Sprint (NYSE:S): The FCC has reportedly approved the Softbank-Sprint merger, sources told Bloomberg. The FCC was the last regulatory body needed to give clearance to the deal. The approval also covers Sprint's offer to buy the half of wireless operator Clearwire (NASDAQ:CLWR) it doesn't already own.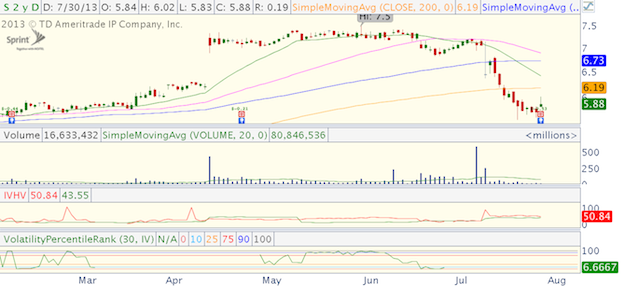 Don't Miss: These Are the Latest Low-Cost iPhone Colors.