3 Telecom Stocks Seeing Action: Verizon Eyes Canada, Sprint's Buyout Value, and T-Mobile's Big Score
Verizon (NYSE:VZ): Verizon is exploring the idea of purchasing Canada's Wind Mobile, as the company has been engaging in exploratory talks with the carrier to the north. Wind Mobile is "one of many" options under consideration, Bob Varettoni, a spokesman for Verizon, said on Wednesday in an e-mail. "We constantly evaluate a wide variety of business opportunities." VimpelCom (NYSE:VIP), Wind's largest owner, wants around $500 million, although Verizon may then have to pump in another $1-2 billion for spectrum purchases, network upgrades and consolidation costs.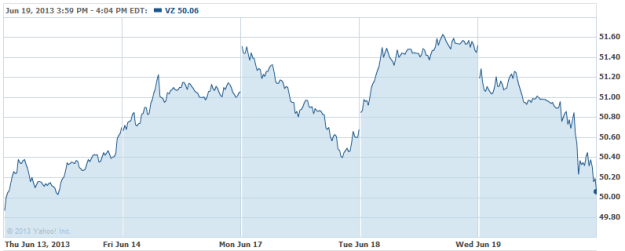 Sprint (NYSE:S): Janco's calculations indicate that Sprint shareholders will receive $7.51 per share upon the closing of the deal with SoftBank, which the firm expects to happen on Tuesday, June 25th. The firm views upside to $7.51 from current levels as attractive, and keeps a Buy rating on Sprint shares.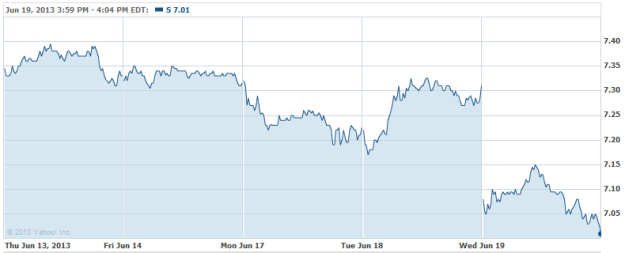 T-Mobile (NYSE:TMUS): Lost in the Verizon-Canada shuffle and Sprint's ongoing fiasco with its suitors was the new that T-Mobile will be the exclusive seller of the Sony (NYSE:SNE) Xperia Z smartphone, which has been making waves internationally, including taking a sizable chunk from Japan's high-end smartphone market. Exact availability and pricing were not offered. The interesting part? The Xperia Z is waterproof, and can be fully submerged and still function.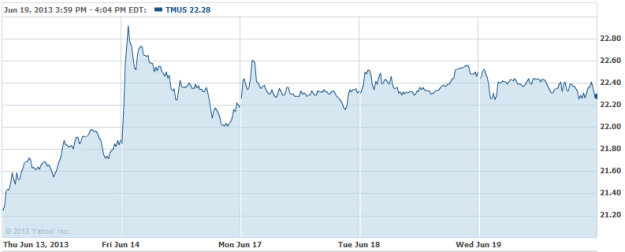 Don't Miss: The FOMC: We Can't Taper QE Yet, Economy Slower Than Expected in 2013