3 Telecom Stocks Seeing Action: Verizon Hub Goes Dark, Vodafone Eyes Liberty, Sprint's Small Cells
Verizon Communications (NYSE:VZ): The Affordable Care Act-affiliated data hub that routes applicant information to websites run by the federal government and 14 states went down on Sunday but is back online after its operator, Verizon property Terremark, announced that the hub was "fully operational." Jeffrey Zients, the adviser brought in to help fix ACA-related flaws, said that "Verizon Terremark successfully resolved the issue with the networking component overnight; the healthcare.gov technical team continued troubleshooting one issue with the online account creation process in the application and has now opened the online application and enrollment tools back up to consumers."

Vodafone PLC (NASDAQ:VOD): As Liberty Global (NASDAQ:LBTYA) sells most of its Chellomedia rights to AMC Networks (NASDAQ:AMCX), the deal is expected to pique the interest of Vodafone, which will have a healthy bank of funds to play with after the completion of a $130 billion sale of its interest in Verizon Wireless. Vodafone is reportedly considering making a bid for Liberty, though its time may be short, as AT&T (NYSE:T) is talking about possibly purchasing Vodafone.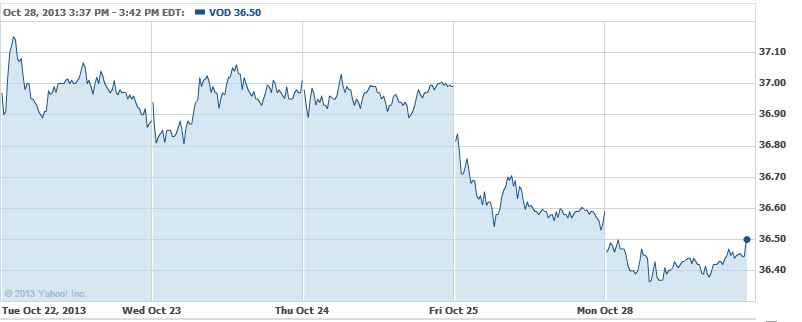 Sprint Corp. (NYSE:S): Sprint is has received and is currently testing some LTE-enabled small cells from its infrastructure vendors, Alcatel-Lucent (NYSE:ALU) and Samsung (SSNLF.PK), though an official deployment date has not been provided. FierceWirelessTech notes that Sprint has long touted small cells' intended role in its massive multiyear Network Vision initiative, which relies upon Samsung, Alcatel-Lucent, and Ericsson network infrastructure gear.

Don't Miss: Will Apple's Next-Generation iPhones Get This High-Resolution Display?