3 Telecom Stocks Seeing Action: Verizon Makes Bid for Wind, Dish Eyes T-Mobile, and Sprint Opens its Windows
Verizon Communications (NYSE:VZ): Verizon has made an initial offer of about $700 million for Canada's Wind Mobile, according to the The Globe and Mail. Verizon has also recently talked with Moblicity, another second-tier Canadian carrier, and is thinking about taking part in upcoming spectrum auctions. The total costs of entering Canada is pegged at about $1 billion to $2 billion, by analyst estimates.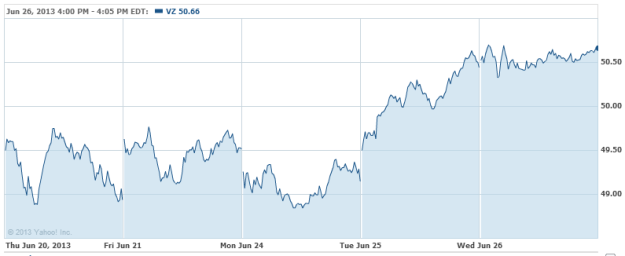 T-Mobile (NYSE:TMUS): Shares of T-Mobile spiked on Wednesday on the anticipation that Dish Network (NASDAQ:DISH), after losing out on the Sprint (NYSE:S) bid, may turn to the provider as a Plan B to get into the wireless game. Dish chairman Charlie Egren has expressed his desire to "spend billions" to get into the telecom market, to help Dish boost revenue growth. T-Mobile, after its merger with MetroPCS, is now a larger acquisition target after its market value climbed 36 percent to $16 billion.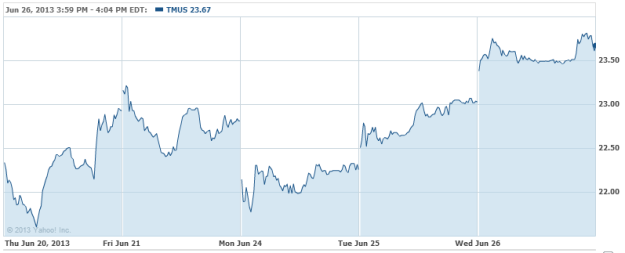 Sprint (NYSE:S): Sprint now offers its first phones with the Windows Phone platform. They come packaged as Samsung's 4.8″ Ativ S Neo, and HTC's 4.3″ 8XT — on the heels of reports that HTC may be prepping a WP8 version of its One device. Both will support Sprint's LTE network and will be priced at $149.99 and $99.99 with two-year contract and after a $50 rebate card, respectively.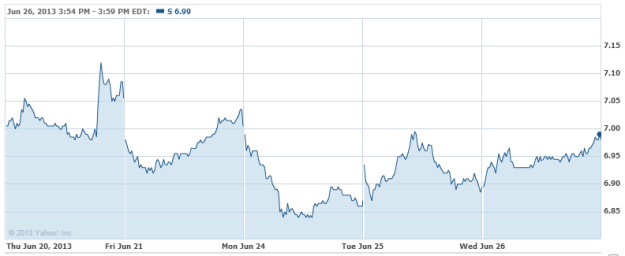 Don't Miss: FTC: Google's Ad Practice is "Deceptive"