3 Telecom Stocks Seeing Action: Verizon Share Grows, T-Mobile May Go Used, AT&T's Next Galaxy
Verizon Wireless (NYSE:VZ): Verizon's market share in the mobile industry swelled to 37 percent over the summer as AT&T and T-Mobile saw their shares shrink year-over-year, Gigaom reports. The enduring popularity of Apple's (NASDAQ:AAPL) iPhone helped fuel the increase as Verizon's customers become increasingly fond of the device, though AT&T has long been the leader for iPhone sales.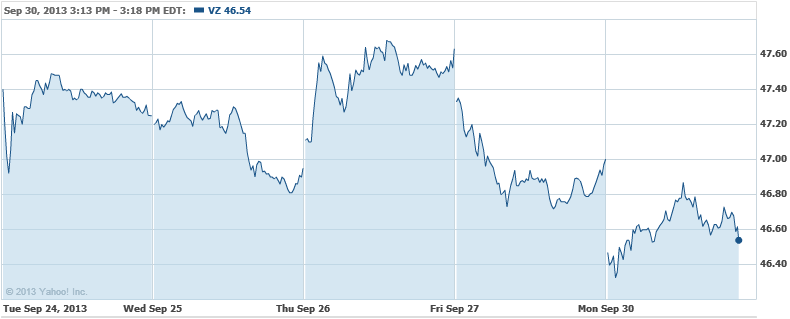 T-Mobile US (NYSE:TMUS): Refurbished devices could become the next installment of T-Mobile's Uncarrier plan. "It is unclear how T-Mobile will keep phones in stock, or if it will just be offered whenever stock is available," UberGizmo says, adding that, "The report also claims that it is possible that T-Mobile will do away with deposits on phones as well, although this will apply only to customers who are deemed to be in good standing with the carrier."

AT&T (NYSE:T): Samsung's (SSNLF.PK) popular Galaxy Note device will be marking a new generation at AT&T on October 4 with the launch of the Galaxy Note III, along with Samsung's new Galaxy Gear smart watch. There is no pre-order to speak of as the devices will be available directly from AT&T locations and AT&T's website on Friday.

Don't Miss: Can AT&T Succeed Where Others Have Failed in Europe?