3 Telecom Stocks Seeing Action: Vodafone Confirms Kabel Bid, Sprint Gets ISS Backing, and AT&T Speeds Up Prepaid
Vodafone Group (NASDAQ:VOD): The telecom operator has confirmed earlier reports of its intentions to acquire Kabel Deutschland for 7.7 billion euros, or 87 euros per share, in what will be the company's largest acquisition since its entry into the Indian market in 2007. Kabel Deutschland boasts 8.5 million connected households in 13 of the 16 German federal states.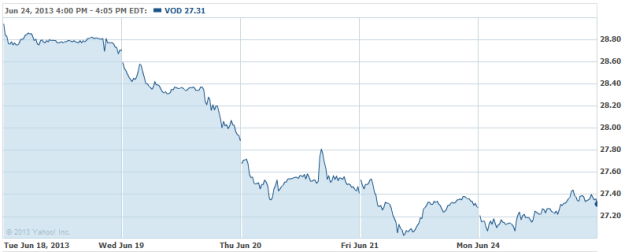 Sprint-Nextel (NYSE:S): Sprint has received the support of shareholder advisory firm ISS over its $5 per share bid for Clearwire (NASDAQ:CLWR), which will be voted on by shareholders on July 8. However, Clearwire shares are still trading about Sprint's offer price, indicating that some investors are holding out for a higher bid from Dish Network (NASDAQ:DISH).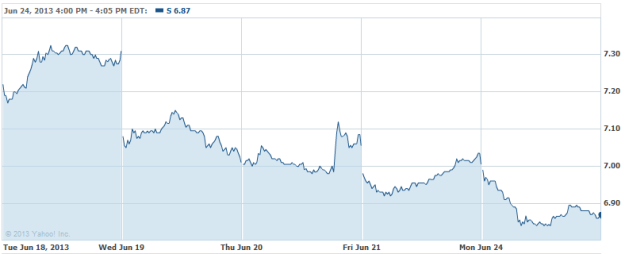 AT&T Inc. (NYSE:T): Over the weekend, AT&T has brought all of its prepaid offerings up to speed — quite literally. The company's Aio service now sports 4G LTE capabilities, following on the heels of its GoPhone prepaid service. Seeking Alpha points out that "AT&T's change-of-heart on AIO suggests it's willing to risk cannibalizing a part of its lucrative postpaid base on account of the prepaid smartphone market's rapid growth and intensifying competition."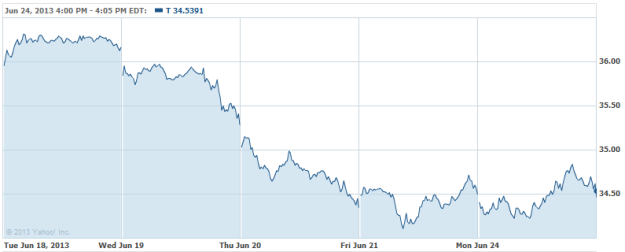 Don't Miss: Vodafone: Sticking to Verizon, Expanding Abroad.