3 Telecom Stocks Seeing Action: Vodafone Contends With India, Sprint Closes iDEN Network, and Verizon's LTE Plans
Vodafone Group (NASDAQ:VOD): Vodafone has offering 40 billion rupees, or about $680 million, to the Indian government to extend the carrier's licenses in Delhi, Mumbai, and Kolkata, some of the most lucrative areas in the country. Due to expire in November of next year, the Indian government has already rejected one proposal to renew the permits, which Vodafone then challenged. The case is set to be heard on August 29.

Sprint Corp (NYSE:S): At 12:01 AM on Monday morning, Sprint officially shut off the iDEN network, bringing a close to the eight-year period of Sprint owning and running Nextel's nationwide network. With the iDEN network being turned off, Sprint is now free to fully utilize the ESMR 800 spectrum for CDMA 1X and LTE service, ExtremeTech points out.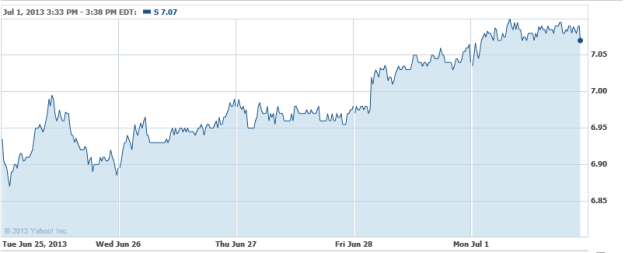 Verizon Wireless (NYSE:VZ): Though the nation's largest wireless network is more or less complete, the company is by no means done making improvements to its 500 market, 49-state coverage. Verizon says its next step will be to fill in some of the blank spots in its coverage maps, using small cells that will come online later this year. Next year, Verizon will offer its first phone to include VoLTE, or voice-over-LTE, using VoIP technology to pass phone calls over the data network rather than the traditional voice network.

Don't Miss: Samsung's New Hybrid Tablet Takes Aim at Apple's iPad.