3 Telecom Stocks Seeing Action: Vodafone Opens Up to Verizon Offers, T-Mobile Eyes Pentagon Spectrum, and AT&T Expands into Disney
Verizon Wireless (NYSE:VZ): Vodafone's (NASDAQ:VOD) chairman said that the second largest wireless carrier in the world would seriously consider any offer for its stake in Verizon Wireless, in light of Verizon Communication's desire to buyout the 45 percent holding of the joint venture that it doesn't own. Chairman Gerard Kleisterlee echoed what Vodafone has made clear in the past — that it will consider proposals, but is happy where things stand currently.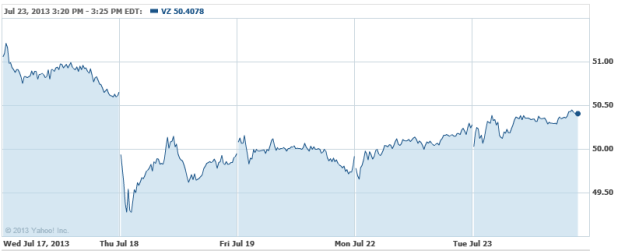 T-Mobile USA (NYSE:TMUS): The Pentagon has hinted in a recent FCC filing that it is considering a move off of the 1755-1780 MHz spectrum band, one largely desired by T-Mobile, in particular. Last year, the FCC granted T-Mobile US's request last year to test the concept of sharing spectrum between federal and commercial users in the 1755-1780 MHz band. Details have yet to be worked out, and the Department of Defense has not provided a timeline.

AT&T (NYSE:T): AT&T and Disney (NYSE:DIS) are forming an agreement to install small cell blocks throughout Disney's theme parks, to help bolster service for AT&T subscribers at the Walt Disney World Resort and Disneyland Resort. The cells "will chop up AT&T's existing licensed wireless spectrum, and reuse it in smaller chunks, to better cover the resort and add more capacity in high-volume areas." AT&T will be adding 25 new devices as a part of the initiative.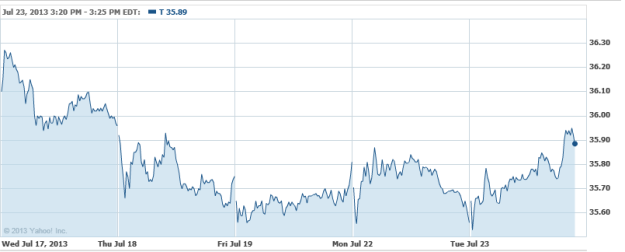 Don't Miss: Is Googling Yourself Risking Your Online Privacy?