3 Things Everyone Should Know Before Starting a Business
Oregon, Utah, Colorado, Missouri, Illinois, Georgia, Delaware, and Massachusetts — these are the states responsible for the creation of the most new businesses in 2014, according to Bloomberg's interpretation of data from the Department of Labor's Bureau of Labor Statistics. Some entrants of this list are hardly surprising. Delaware is a corporate tax haven, and the easiest state in which to set up a shell company, while Massachusetts — the birthplace of Harvard student Mark Zuckerberg's Facebook — contains more than a hundred colleges and universities, the breeding ground of innovation and entrepreneurship. Meanwhile, Colorado is experiencing a boom thanks to the state's decision to change the legal status of marijuana. Researchers from The ArcView Group, a cannabis industry investment and research firm located in Oakland, California, have found that marijuana is the fastest growing industry in the United States. But what about the other states on this list?
While it is easy to focus on the differences in the states, looking at the data as a whole, we can learn quite a bit about the creation of new businesses in the United States.
1. Education matters
As Robert Atkinson, president of Washington's Information Technology & Innovation Foundation, told Bloomberg, a strong concentration of above-average colleges and universities correlates with strong levels of new business creation. Atkinson noted that education appears to be a common theme in all the states on the list. For example, Illinois has the University of Chicago and Northwestern; Colorado has the United States Air Force Academy; and Missouri has Washington University and the Missouri University of Science and Technology.
Even so, Massachusetts remains unique. The state has long been a hub of technological innovation, and a leader in technology and work-force education thanks to Harvard University and the Massachusetts Institute of Technology. In 2014, Atkinson's foundation even ranked Massachusetts first among states poised to benefit from technological innovation. Furthermore, the state "has four key elements for high-growth startup success: venture capital, great research universities, a high concentration of college-educated workers, and an existing base of tech-based companies in a variety of sectors," he continued. "This ecosystem is to some extent self-reinforcing."
2. Innovation breeds more innovation
Entrepreneurs have a tendency to clump, or in the words of Atkinson, the ecosystem is "self-reinforcing." And that phenomenon serves to explain why there is such a concentration of startups and young technology companies in Silicon Valley and Boston. Then in turn, the high density of young companies in these metropolitan areas draws talented immigrants from all over the world, further concentrating skilled employees.
"Places with high startup activities tend to be attractive for reasons beyond just the economy," Arnobio Morelix, a research analyst who studies startups, told Bloomberg. "They are places where people want to live and people want to move."
It may seem that California — with Silicon Valley, where Facebook's are headquarters now based — has more far more entrepreneurs, far more startups, and far more growing technology companies than any other state in the United States, but its rate of growth in 2014 was slower than other regions.
3. Effects of the recession are still being felt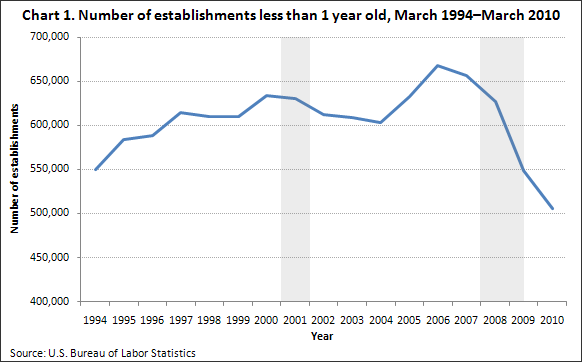 Looking at only the several states that have seen better-than-average rates of growth in new business creation hides important trends — important trends that the ever-constant buzz about Silicon Valley also disguises.
The above chart from the Bureau of Labor Statistics shows that the number of new business, defined as those businesses less than a year old, have not increased during a single year since 2006. And similarly, the number of jobs created by businesses less than a year old have been dropping fairly steadily since the late 1990s.
In fact, entrepreneurship in the United States has been slowing for decades. The number of establishments less than a year old in 2010 were fewer than 20 years ago. The long decline in U.S. entrepreneurship is evident through the fact that the startup rate has been dropping. The exact reasons for this change is not entirely clear. As FiveThirtyEight's Ben Casselman noted at the end of last year, it's not just thanks to the aging of the baby boomer generation, it is not limited to so-called "mom and pop retailers" or other low-growth sectors, and the length of the decline means short-term economic or political cycles cannot be the answer.
A November 2014 Brookings Institution report authored by economists Ian Hathaway and Robert Litan suggest that population growth and business consolidation are the cause. Over the past twenty years, population growth has gradually slowed, and nearly every single sector of the economy is now more dominated by major companies than 30 years ago. For as much as economists talk about disruptive technologies, it is incredibly hard to break into a market that has major players.
Of course, things can change. Immigration changes population growth, while regulation and taxation can create a more favorable environment for small business growth.
Follow Meghan on Twitter @MFoley_WSCS
More from Money & Career Cheat Sheet: