3 Things The GOP Hates About Obama's Budget
"Better late than never, the Obama administration will issue its 2014 budget on April 10, a mere nine weeks late," wrote Greg Valliere, chief political strategist at Potomac Research Group, according to MarketWatch. "It will call for higher taxes and more infrastructure spending, and it will be dead on arrival."
President Barack Obama released his budget proposal for fiscal 2014 on Wednesday, and true to form it contained provisions that Republicans are likely to scoff at. Here are three things from Obama's budget that are drawing GOP flak:
1) Higher taxes and tax reform
Obama's fiscal 2014 budget proposes that Congress enact two measures aimed at raising $583 billion in revenue.
The first proposal is to reduce the value of itemized deductions and other tax preferences that families in the highest income brackets receive to a maximum of 28 percent, where it stood at the end of the Reagan Administration. As it stands, the President's budget argues, millionaires who contribute to charity or deduct mortgage interest can get a deduction that is more than twice as generous as that for a middle-class family. This limitation would affect only the top 3 percent of families.
"The Budget also puts forward a specific proposal to comply with the Buffett Rule, requiring that wealthy millionaires pay no less than 30 percent of income—after charitable contributions—in taxes."
If the President has made one thing clear during his time in office, it's his belief in economic fairness. Those who make more money should pay more taxes, no exceptions. As it stands, gaming tax preferences — such as low rates on capital gains and dividends — can help wealthy individuals reduce their total tax bills to less than what many middle class families pay.
2) It doesn't remove the deficit
Obama's fiscal 2014 budget projects a deficit of $744 billion, or 4.4 percent of GDP. With $1.8 trillion in additional deficit reduction planned over 10 years, the President's proposal would reduce the deficit to 2.8 percent of GDP by 2016, and to 1.7 percent of GDP by 2023.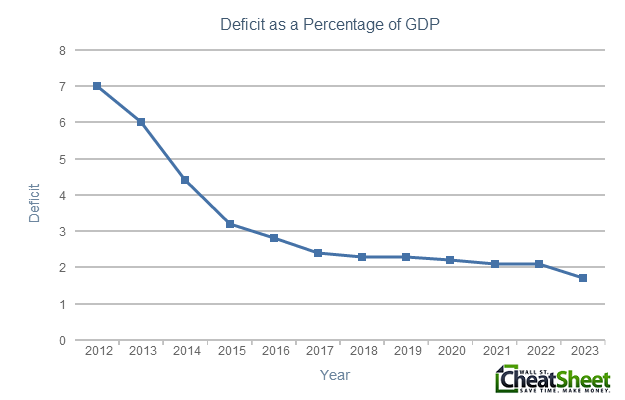 While this does begin to reduce the nation's debt as a share of the economy, it does not totally balance the budget. On the other side of the aisle, House Budget Committee Chairman Paul Ryan (R-WI) said that Republicans owe Americans a balanced budget.
3) Spending
The President's budget proposal includes a number of spending increases at major agencies. Total proposed spending in 2014 is 2.5 percent higher than in 2013. One of the key components of his budget is $50 billion for immediate infrastructure investments.
Some specific spending increases include a 4.6 percent bump in discretionary funding for the Department of Education, $48.2 billion in base funding for the National Intelligence Program, an 8 percent increase in discretionary funding for the Department of Energy, and a 5.5 percent increase in the budget for the Department of Transportation.
Don't Miss:  Here's Your Cheat Sheet To Obama's Fiscal 2014 Budget Proposal.