3 Top Stories Giving Juice to Chevron and Exxon This Week
Chevron Corporation (NYSE:CVX): Current Price $116.03
The corporation has been hit by Utah regulators with a violation notice in regards to a March fuel spill near a bird refuge in the northern part of the state. The Utah Division of Water Quality is requesting Chevron to supply a report on cleanup operations and a response plan for the pipeline rupture that leaked approximately 21,000 gallons of diesel fuel. The split in the pipeline that runs between between Salt Lake City and Spokane spilled diesel at Willard Bay State Park, and near the Bear River Migratory Bird Refuge. Division Director Walt Baker reported that his agency is working with the Attorney General's Office to make sure Chevron is held accountable for the spill and its impacts, remarking that "this release has had a significant effect on a fragile ecosystem. The popular bird-watching and recreational area has been closed because of this spill."
Amounts of corrosion to an extent like that on the pipe that failed and caused a large fire at Chevron's Richmond facility, have been uncovered by tests of pipe samples from the El Segundo refinery, said a report released on Thursday. The evaluations found as much as 60 percent wall loss in a pipe at the El Segundo refinery that processed the same type of crude as its peer facility in Northern California, reported the United States Chemical Safety Board and California Division of Occupational Safety and Health. However, Chevron had voluntarily inspected the pipes at El Segundo subsequent to the August 6 fire in Richmond caused by a corroded, 1970′s era pipe.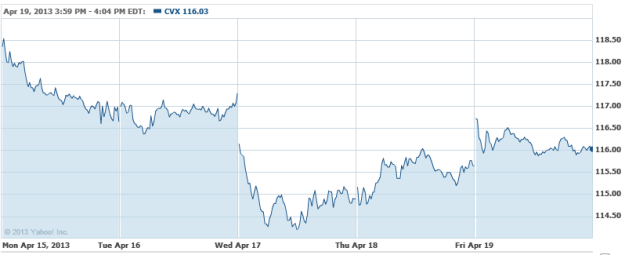 Don't Miss: Report: Microsoft and Yahoo Steal This Much of Google's Search Engine Market Share.
Exxon Mobil Corporation (NYSE:XOM): Current price $87.46
Exxon Mobil has surrendered its number-one spot as the biggest publicly-traded firm to the Chinese bank ICBC, which will now occupy the top spot for the first time, according to Forbes magazine. Meanwhile, Exxon is now at the number-five rank, behind China Construction Bank, JPMorgan Chase (NYSE:JPM), General Electric (NYSE:GE), and of course ICBC. However, there is a bright spot: The oil and gas major was the world's most profitable firm for the second year in a row, the magazine also said.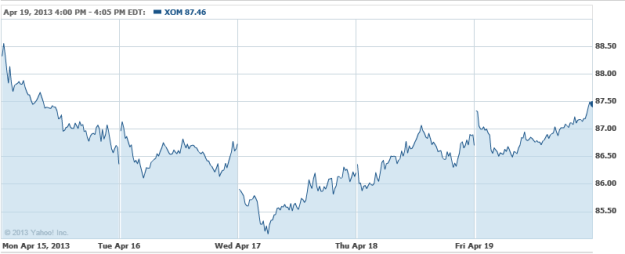 Investing Insights: Is Alcatel-Lucent a Dangerous Investment?