3 Ways Ford Was Successful in 2013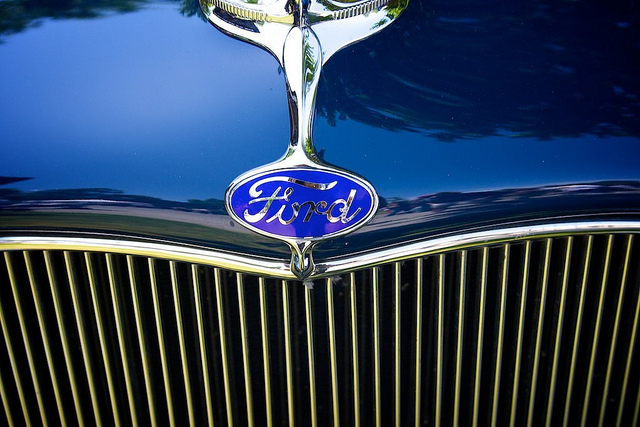 The numbers have not yet been finalized, but the advanced sales figures for 2013 released by Ford (NYSE:F) on Monday show that CEO Alan Mulally's efforts to narrow the focus of the Detroit automaker have been successful. A little more than four years have passed since the American automotive industry was wracked by two government-backed bankruptcies and Ford's self-financed restructuring, but car sales have soared this year, with demand for new vehicles driven by historically low interest rates and pent-up need. More importantly for Ford — as well as General Motors (NYSE:GM) and Fiat-owned (FIATY.PK) Chrysler — the new competitiveness of compact and family cars have convinced consumers of the quality of U.S.-manufactured automobiles.
A press release detailing Ford's 2013 United States results highlighted the extent of the company's growth this year: Retail market share improved and sales growth held strong across the automaker's multiple segments. Ford not only had its best retail sales performance in the U.S. in six years, but the company expects 2013 to have produced one of the best full-year results in its history, with "strong revenue growth, market share in all regions improved or equal to last year … and a stronger balance sheet."
"We are celebrating what we expect to be an outstanding 2013, one that is likely to be among the best in our history," Bob Shanks, Ford's executive vice president and chief financial officer, said in a press release dated December 14. As the announcement suggests, the company had several outstanding quarters this year, and North American operations have been essential to the company's financial performance. In the first quarter, Ford recorded what was at the time a record quarter, thanks in a large part to the $2.4 billion in pretax profit that the company's North American operations generated. In fact, Ford earned all but $6 million of its $35.8 billion in revenue in North America.
While global conditions improved during the second quarter, Ford's sales in North America continued to carry the company. However, for the first time in more than two years, Ford finally posted a profit outside North America last quarter. Still, that region is hugely important to the automaker's financials, and the company's strong performance in the United States this year has much to do with the optimism the company has expressed regarding its full-year results.
Here are three ways Ford was successful in 2013.
1. Sales growth in three key segments
"The great news is that we are not overly reliant on any one segment — we're seeing double-digit sales growth in cars, trucks and utilities," said John Felice, Ford's vice president of U.S. marketing, sales, and service, in Monday's press release. Led by the Ford Escape, sales of the automaker's SUVs rose 10.3 percent to 621,652 units; Ford hybrid vehicle sales are expected to surpass 80,000 vehicles, a figure nearly triple 2012's total. While some problems were experienced with the new Ford C-MAX hybrid, the lineup is drawing nearly half of its customers from import brands, according to the release.
Ford and its vehicles set several records last year. In the SUV market, Ford is the best-selling brand, outselling the second-place brand by more than 30 percent.
More importantly, the company's so-called "supersegment" has proved to be bulwark for 2013 sales. The segment began gaining notoriety in the first quarter. Ford generated strong growth in both its top and bottom line despite worsening conditions in Europe, high construction costs in Asia, and devalued currency in South America. At the time, analysts attributed this success to the popularity of the automaker's supersegment — a category featuring the Fiesta, Focus, Fusion, and Escape that Ford said is the fastest growing in the industry. That category is especially popular in North America. This year, the Ford Fiesta set a new sales record with a projected 70,000-plus vehicles sold. Selling more than an estimated 290,000 units, the Ford Fusion had its best year ever, while the Ford Escape led the SUV sales gains.
Truck sales were also strong, boosted by the improving U.S. economy and an increase in home construction. With, 688,810 units sold through November, the Ford F-Series was the nation's best-selling truck in 2013, as it has been for 37 straight years.
2. A widening lead over Toyota
"The Ford brand has had more retail share growth than any other brand in the country, with our most significant gains coming from import-dominated coastal markets," noted the company's press release. Toyota (NYSE:TM) will not release its numbers until January 2, but through November, the Ford marque brand had sold 396,041 more units than Toyota, which occupies second place in U.S. sales rankings. In 2012, Ford's sales lead over Toyota amounted to 329,677 vehicles.
Given the company's strong 2014 numbers, Ford expects to retain its title as the best-selling vehicle brand in North America.
3. Retail sales growth
So far this year to date, retail sales have increased 15 percent, a jump propelled by Ford's growing market share. Retail sales — which are a far more important measure of an automaker's success because they exclude fleet sales, or those vehicles sold to rental car companies, government agencies, and corporations  – are expected to amount to 1.7 million vehicles. In total, the Ford brand expects to sell more than 2.4 million vehicles in 2013.
Looking forward, Ford has forecast 2014 to be "another solid year and a critical next step in the One Ford plan." The company has planned 16 product launches for the year, so as to keep the company's "sales momentum going."
More from Wall St. Cheat Sheet:
Follow Meghan on Twitter @MFoley_WSCS