3M Finalizes Asian Investments to Support Window Film and 2 Other Dow Movers to Watch
3M Co. (NYSE:MMM): Current price $126.22
The company 3M says that it has completed its important investments in the Asia-Pacific region with the scaling up of world-class manufacturing facilities in China and Singapore in support of the growing window film division. The two locations will permit 3M to continue to address customer requirements, both in the region and globally, and to meet the rising demand for its automotive, residential, and commercial window films. These new cutting-edge facilities are in addition to the company's expanded capital investments made in its United States factories for clean coating and converting.

Merck & Co. Inc. (NYSE:MRK): Current price $45.36
Merck reported Monday that its new human papillomavirus vaccine is roughly 97 percent effective in blocking precancerous lesions caused by strains of the virus that are not removed by Merck's vaccine Gardasil. The firm said that it expects to file for marketing approval of the new vaccine, which is designated V503, before the end of the current year. Gardasil was created to aim at four common strains of HPV, which can cause cervical cancer and genital warts, and V503 is meant to prevent infection with a total of nine strains of the virus.
The Goldman Sachs Group Inc. (NYSE:GS): Current price $161.91
On Tuesday morning, Goldman Sachs announced that it has initiated a $250 million fund, the GS Social Impact Fund, which will invest in and underwrite socially significant projects, such as a previous investment in a mixed-income housing building in Manhattan's Harlem neighborhood, at the same time bringing neat returns to its investors.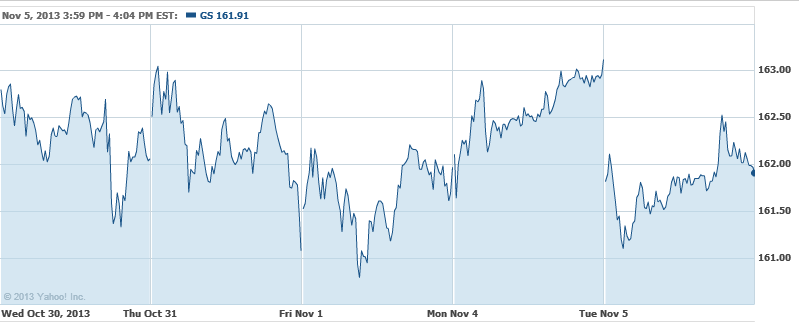 Don't Miss: The 5 Best October Box Office Totals of All Time.