3M Sees Its E.coli Assay Granted NF Validation and 2 Other Dow Movers to Watch
3M Company (NYSE:MMM): Current price $111.45
On Friday, 3M Food Safety said that its 3 Molecular Detection Assay for E.coli O157 (including H7) has been awarded an NF Validation certification from AFNOR Certification, for its ability to detect the bacteria in raw beef, fruit, vegetable and dairy products. AFNOR Certification's validation for E.coli O157, which will be effective for a four-year period, follows a similar evaluation process completed of late for 3M's Molecular Detection Assay for the Salmonella organism. Salmonella and E.coli are perennially the two top causes of foodborne illness outbreaks globally. Achieving an NF Validation certification necessitates undergoing a multi-phased scientific review.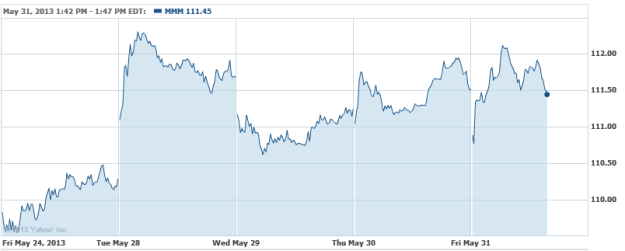 UnitedHealth Group (NYSE:UNH): Current price $63.89
The company will offer coverage in only a dozen of Obamacare's new insurance exchanges, marking the most recent indication that big insurers envision little gain from rapidly plunging into the new markets. Chief Executive Stephen Hemsley told investors Thursday at the Sanford C. Bernstein & Co. conference in New York that the Unites States' number-one health insurer is striking a conservative approach to the online markets ready to open in states on October 1st. UnitedHealth's plans sum up its fear that the first wave of newly-insured customers under the law may be the most expensive, according to Hemsley, who went on to say that UnitedHealth will "watch and see" how the exchanges come about, and that he expects the first enrollees will have "a pent-up appetite" for medical care, remarking that "we are approaching them with some degree of caution because of that."
International Business Machines Corporation (NYSE: IBM): Current price $211.14
IBM and Vietnam Mobile Telecom Services Company on Friday said that they will work jointly to build an advanced, end-to-end mobile computing platform. The accord that includes IBM MobileFirst, IBM SmartCloud and IBM PureSystems offerings, will permit its Vietnamese partner to expand into new markets, while improving its enterprise application development capabilities, and adding to workforce productivity. This collaboration with IBM will be led by Vietnam Mobile Telecom Services Center II, which is the largest revenue contributor for VMS.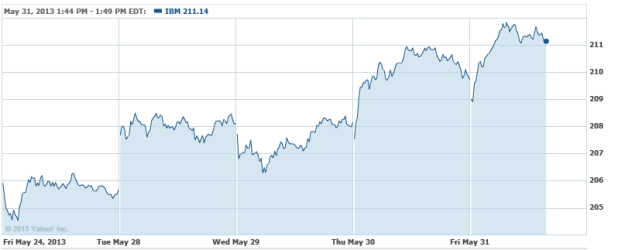 Don't Miss: Here's Why Dell Wants to Go Private With Company Founder.