4 Compelling Financial Stock Stories for Investors
Goldman Sachs Group (NYSE:GS): Closing price $134.26
An initial public offering is being planned by a German property firm that is owned by the Goldman Sachs investment fund Whitehall, which will constitute one of the first new listings in Europe in 2013. The firm in question is LEG Immobilien, that   specializes in residential property; its IPO could bring as much as $1.3 billion. Shares should commence sales in February, say knowledgeable sources. The announcement is timed well, as many European stock markets have rebounded following the last-minute agreement on the United States budget that was brokered January 1st and 2nd.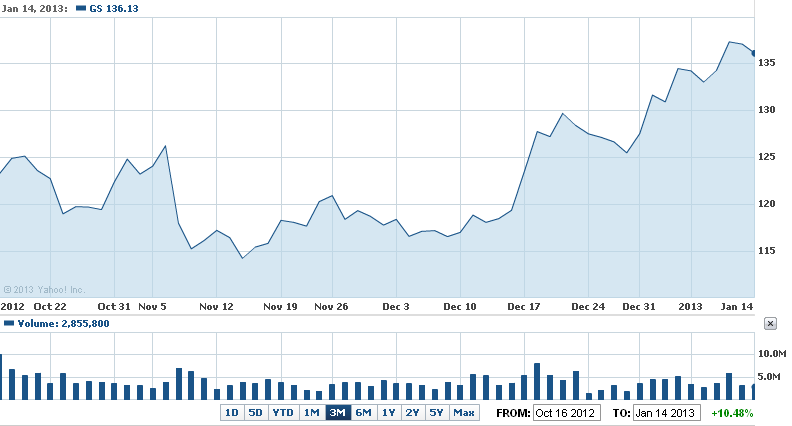 The Royal Bank of Scotland Group (NYSE:RBS): Closing price $10.83
The private-equity consortium lined up by the bidding partnership of JC Flowers and the American equity firm Apollo Global Management (NASDAQ:APO) to acquire 316 branches of Royal Bank of Scotland, has chosen David Morgan to run the banking business if its bid is successful, according to the Sunday Telegraph. Morgan, who was the chief of JC Flowers' European and Asian operations, will assume the role of executive chairman of the bank, should things turn out. The group's offer is reportedly worth as much as $1.61 billion.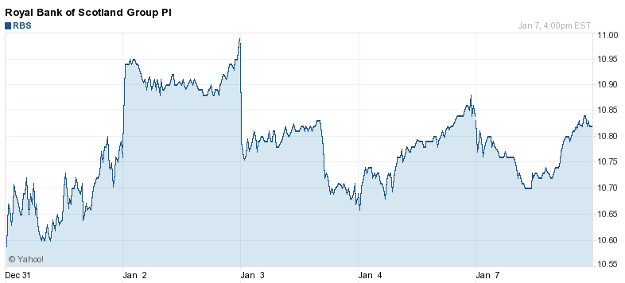 Are these stocks a buy or a sell? Let us help you decide.  Check out our Wall St. Cheat Sheet Stock Picker Newsletter now>>
ING Groep (NYSE:ING): Closing price $9.91
More cost reduction seems to be in store for ING, as it deals with new and newer regulations and high provisions for bad loans, showcasing the pressures on banks to make their businesses smaller. On a worldwide basis, lenders are faced with higher capital requirements, so as to mollify regulators during a time when a weak economy shrinks demand for investment banking and credit services, giving them no choice but to cut costs by slashing operations and jobs.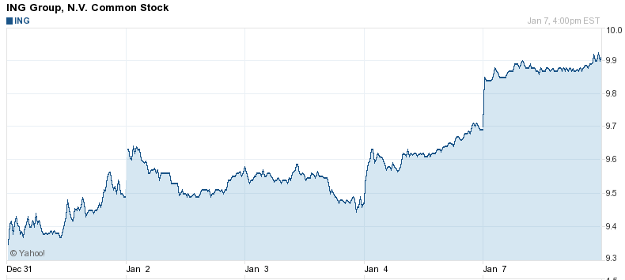 Newcastle Investment Corporation (NYSE:NCT): Closing price $9.60
On Monday, Newcastle agreed to purchase an interest in excess mortgage servicing rights. The total unpaid principal balance of the underlying loans was roughly $215 billion as of November 30th. Further, in a separate transaction on January 4th, the firm bought an interest in the excess MSRs on a $13 billion Ginnie Mae pool. These acquisitions should to bring Newcastle's total investment in the rights to around $610 million and the balance of the underlying loans to more than $310 billion. Newcastle plans to spin off these and certain other residential assets.
Don't Miss: These 10 Major Banks are Shelling Out $8.5 Billion: Is It Enough?