4 Consumer Stock Stories Buzzing Along on Tuesday
Starbucks Corp. (NASDAQ:SBUX): Closing price $75.60
In its 730 stores, Starbucks UK has debuted the duffin, which is part donut, part muffin. The coffee chain also brought forth other new baked goods, soups, sandwiches, and salads. Meanwhile, in the United States, Starbucks has also been introducing new baked goods under the name La Boulange. However, Starbucks is so certain that British customers will like the duffin that it made it permanent on the menu, without a trial run.

Monster Beverage (NASDAQ: MNST): Closing price $52.14
Monster Beverage shares closed up by 3.76 percent at $53.59, after analyst Amit Sharma at BMO Capital discussed reports of strong September sales. A note from the analyst point to IRI data claiming that all channels for the 4 weeks ending September 29th gained 10 percent. Growth in the crucial area of convenience was reportedly up by 12 percent year-over-year. Sharma believes that these solid consumption trends may indicate that fears over a slowdown are unfounded. BMO maintains an Outperform on Monster Beverage along with a price target of $67.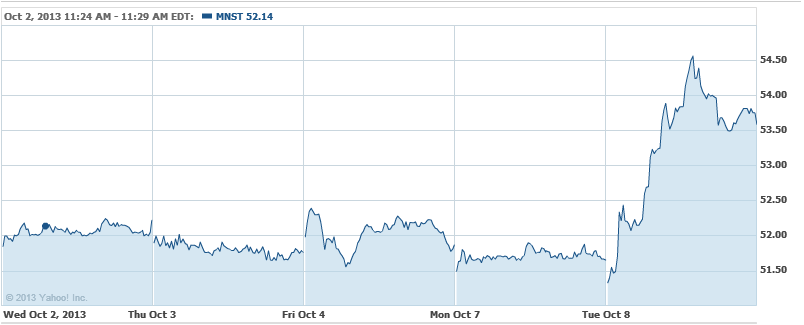 General Motors Co. (NYSE:GM): Closing price $34.22
Bob Ferguson, chief of Cadillac, commented Monday in New York after the unveiling of the 2015 version of the redesigned luxury sport-utility Cadillac Escalade, that the company may apply the name to other luxury vehicles within the Cadillac brand. Ferguson said that, "There's a lot of equity in Escalade and I'd like to explore the notion of other vehicles that would carry that brand name." The evening included an appearance by Donald Trump. The Escalade is one of 10 new or redesigned Cadillacs that GM is debuting in the United States by the end of 2015.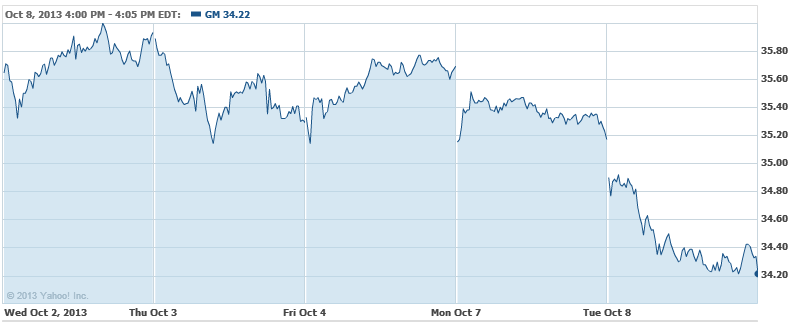 Anheuser-Busch InBev (NYSE:BUD): Closing price $96.82
On Tuesday, the state-owned Czech brewery Budejovicky Budvar NP announced that an Italian court has banned its historic rival, Anheuser-Busch InBev, from using the Budweiser trademark in Italy, marking the most recent ruling in their long legal struggle over the brand name. Meanwhile, Budvar said the Supreme Court permitted the Czech brewer to return to the Italian market with its Budweiser Budvar lager. Budvar director Jiri Bocek hailed the decision as "a great victory."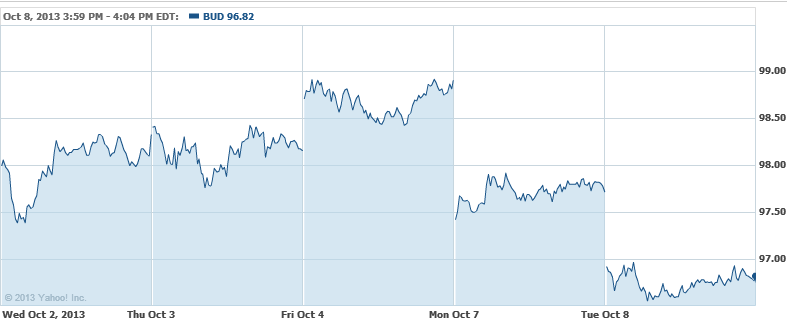 Don't Miss: Starbucks's Schultz Opens His Mouth About the Government Shutdown.