4 Consumer Stock Stories for a Friday
PepsiCo (NYSE:PEP): Closing price $72.49
In response to complaints from its customers, PepsiCo is removing a controversial ingredient from its Gatorade sports drink. Spokeswoman for the firm Molly Carter reported Friday that the removal of brominated vegetable oil has been being readied over the past year, subsequent to PepsiCo "hearing rumblings" from consumers about the ingredient. However, she said it was not a reaction to a recent petition on Change.org by a teenager in Mississippi. Brominated vegetable oil is also used in other drinks, such as certain flavors of Powerade, made by competitor Coca-Cola Co., which has not yet said if it would remove the ingredient from Powerade as well.

Markets are at 5-year highs! Discover the best stocks to own. Click here for our fresh Feature Stock Pick now!
3M Company (NYSE:MMM): Closing price $100.66
3M Canada realigns its structure in order to better serve Canadian markets and its customers, which reflects the world realignment of 3M Company, effective January 1st. The new structure is comprised of five business groups: Health Care, Consumer, Electronics & Energy, Industrial, and Safety & Graphics. Prior to this, the firm had six major business divisions. Company Chairman, President and Chief Executive Officer Inge Thulin commented that, "The change is a natural outcome of our strategy to increase relevance to our customers and to broaden our presence in the markets we serve. By building scale more broadly, we create critical mass in each business group to take full advantage of innovation and commercialization opportunities."
The Walt Disney Company (NYSE:DIS): Current price $54.38
It has been reported that the director J.J. Abrams of the latest Star Trek film and co-creator of LOST, will direct Disney's Star Wars: Episode VII, said The Los Angeles Times Thursday night, citing confirmations from sources.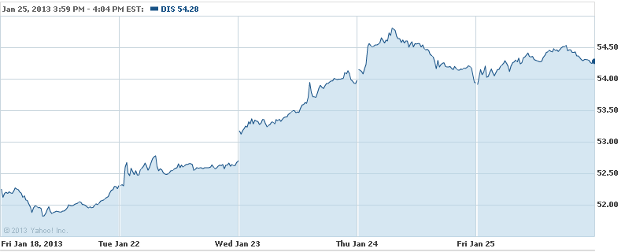 Ford Motor Company (NYSE:F): Closing price $13.68
Late in 2012, Ford introduced an F-150 Limited pickup model, featuring red and black full-grain leather-trimmed seats, adjustable head restraints, along with an assortment of ambient lighting colors. All this stems from the new trend of luxurious interiors becoming a crucial factor in luring car and truck buyers, while at he same time growing profit margins for automakers. A recent survey by J.D. Power & Associates suggests that reliability is rated lower than interior design among consumers, and a greater percentage of of them will buy an unreliable vehicle than one with sporting an interior design they see as unattractive.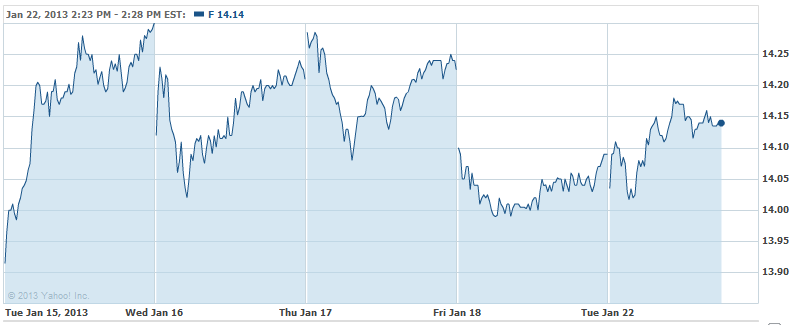 Don't Miss: Yum's Chinese Chicken Troubles.