4 Consumer Stock Stories for a Positive Investment Shopping Experience
Toyota Motor Corp. (NYSE:TM): Closing price $130.10
The Japanese automaker announced Thursday that it is recalling some 803,000 sedans, mostly its Camry, in the United States from the 2012 and 2013 model years, due to potential problems with their air conditioning condensers. On a worldwide basis, the recall includes around 885,000 Camry, Avalon and Venza sedans, with 44,000 in Canada, 10,600 in Mexico, 9,100 in Saudi Arabia, and the rest divided among 15 countries. It is possible that water from the condenser might leak onto the airbag control module, which could lead to the airbag inflating and deploying at the wrong time, according to Toyota. Beyond that, power steering might be affected by a leaky condenser.

Wal-Mart Stores Inc. (NYSE:WMT): Closing price $75.77
Two senior officials familiar with a probe in India said that Wal-Mart has been cleared of claims that it violated a prohibition on foreign investment in supermarkets. The country's Finance Ministry had been looking into a 2010 purchase by Wal-Mart of $100 million in convertible debentures from the retail unit of the conglomerate Bharti Enterprises Ltd. Authorities were checking to see if Wal-Mart had attempted to get around restrictions on foreign direct investment, since the debentures, which are debt instruments, could be converted into an interest in the Bharti division that operates the Easyday supermarket chain. The ministry decided that the arrangement between Wal-Mart and Bharti was appropriate with central-bank rules and other regulations enabling indirect investments.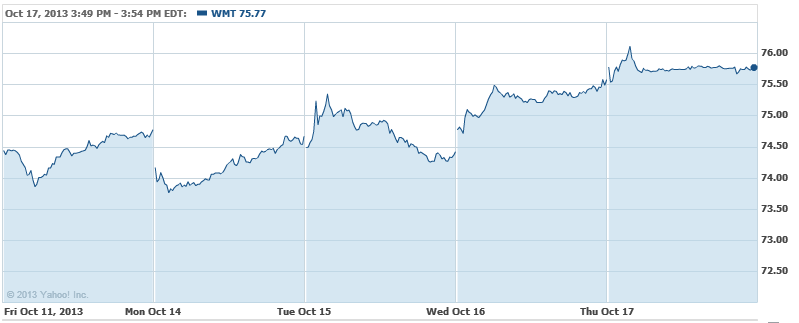 Starbucks Corp. (NASDAQ:SBUX): Current price $78.82
Starbucks will soon be bringing its premium brewed coffee to travelers at the AIRMALL at Cleveland Hopkins International Airport AIRMALL USA, as the developer of the leading airport concessions model in North America, has completed lease agreements with HMSHost to launch two Starbucks locations in Concourse A and Concourse D by the end of 2013.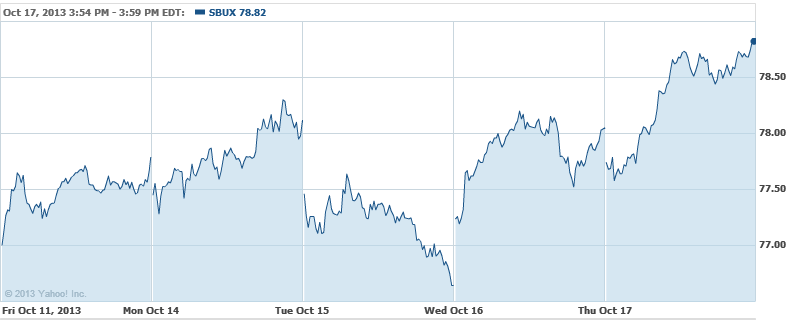 Costco Wholesale Corp. (NASDAQ:COST): Closing price $118.24
On Wednesday, Costco announced that it will cooperate with the Drug Enforcement Administration in its current inquiry into prescriptions for controlled substances, subsequent to receiving subpoenas and warrants from the agency. The DEA has targeted large pharmacy chains and distributors to stop the flow of prescription drugs in which abuse is suspected, as it revoked the controlled substance licenses of two CVS Caremark Corp drugstores in Florida in 2012, and earlier in 2013, Walgreen Co reached a record $80 million resolution with the agency to settle allegations that its negligence in record-keeping and dispensing permitted highly addictive drugs to reach abusers and be sold illegally.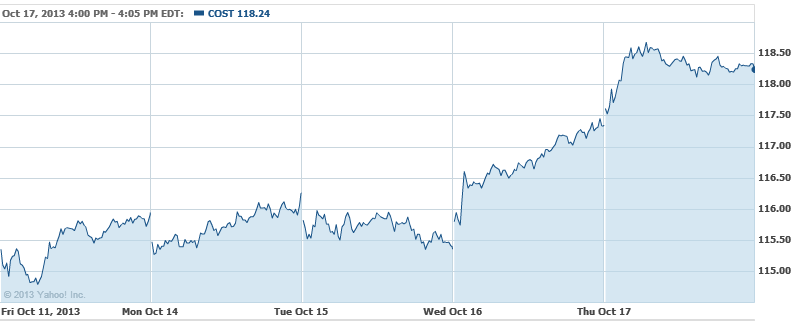 Don't Miss: Facebook Just Made It Easier to 'Follow' Teen Users.