4 Consumer Stock Stories for a Positive Investment Shopping Experience
Starbucks Corp. (NASDAQ:SBUX): Closing price $80.05
Starbucks's first teahouse, Teavana Fine Teas + Tea Bar, will launch Thursday in New York City, indicating just how serious the coffee behemoth has gotten about selling fancy tea; the store is strategically located on the Upper East Side. Besides that, the store is near a Lululemon and Dean & DeLuca. Starbucks CEO Howard Schultz observed that the difference between a Starbucks coffee shop and a Teavana teahouse "is like night and day. It's much more zen-like than anything you'll find in a Starbucks store."
US Airways Group Inc. (NYSE:LCC): Closing price $21.39
In a letter dated Wednesday, mayors from cities affected by the prospect of a prolonged struggle between the U.S. Department of Justice, American Airlines, and US Airways (AAMRQ.PK) over the two firms' proposed merger urged United States Attorney General Eric Holder to resolve the looming antitrust lawsuit. The mayors placed emphasis on how disallowing the merger would harm business, communities, the airlines, and their employees, also touching on how the battle would affect consumers. The officials said in their letter that: "We support the merger of American and US Airways because it is based on growth which benefits consumers and our communities. A hub airport is only as good as the route network it supports, and our cities represent hubs throughout the United States that would benefit from a broader route network."
FedEx Corp. (NYSE: FDX): Closing price $129.76
FedEx anticipates seeing its busiest day in company history when it moves more than 22 million shipments around the globe on Cyber Monday, December 2. The 11 percent year-over-year rise will be pushed by online retailers feeding the FedEx Ground and FedEx SmartPost networks. During the busiest week of 2013, December 1-7, FedEx forecasts that 85 million shipments will move through its international networks, representing a 13 percent increase compared to its busiest week of 2012.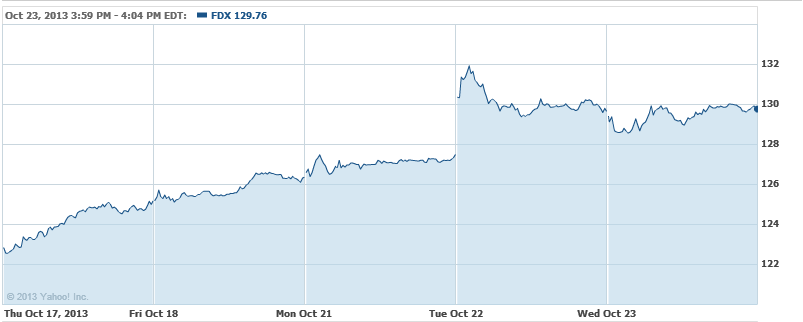 Honda Motor Co. (NYSE:HMC): Closing price $39.30
Honda is expected to unwrap close-to-production concepts of a mini-roadster and its NSX sports car at November's Tokyo Motor Show, along with production versions of the upcoming Fit-based small crossover and a Japanese market mini-wagon. The Fit-based crossover will serve as a market-ready version of the Urban SUV Concept exhibited at the Detroit auto show in January. The production version, which is one of three Fit variants, should go on sale in Japan in December with looks that cleave closely to that concept.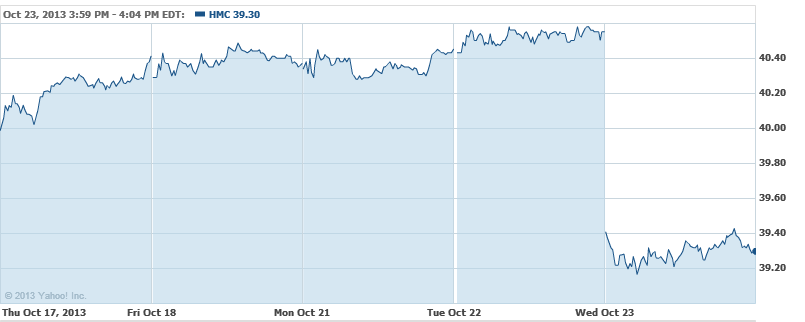 Don't Miss: 10 Fast Food Companies That Are a Burden on Taxpayers