4 Consumer Stock Stories for a Savvy Investment Shopping Experience
Toyota Motor Corp. (NYSE:TM): Closing price $131.98
Toyota USA reported Thursday that it is recalling some 694,000 Sienna minivans in North America because of a shift lever problem. Due to possible damage to the shift lock solenoid installed in vehicles in the recall, the minivans could shift out of "park" and roll away without the driver pressing the brake pedal. The vehicles were built at Toyota's factory in Indiana and the recalled Siennas are from model years 2007 to 2009, as well as 2004 to 2005. The majority of the recalled vehicles, around 615,000, are in the United States — some 56,000 are registered in Canada, 23,000 in Mexico, 300 in Germany, and 10 in Guatemala.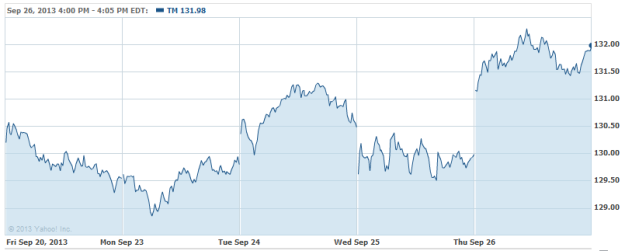 United Natural Foods, Inc. (NASDAQ:UNFI): Closing price $66.89
On Thursday United Natural Foods said that it will purchase all of the equity interests of Trudeau Foods LLC from Trudeau Holdings LLC, which is a portfolio firm of Arbor Investments II LP. Trudeau Foods is the biggest distributor of natural, organic and specialty food products in Minnesota. The transaction is subject to the usual closing conditions and should close by September 30, after which Trudeau Foods will be operated as a wholly-owned subsidiary of the buyer.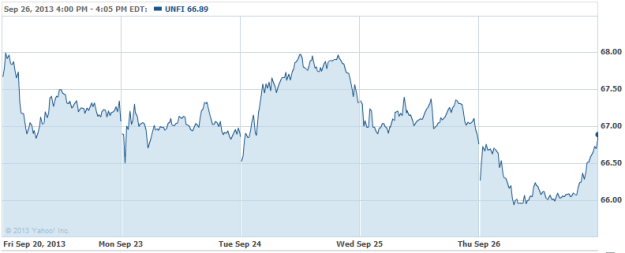 General Motors Co. (NYSE:GM): Closing price $36.95
The United States Treasury reported Thursday that it is making a third sale of General Motors shares without releasing the quantity it intends to divest. The first two sales the Treasury conducted accomplished the disposal of some 200 million shares, and it currently holds 101.3 million shares of the automaker. Treasury Assistant Secretary, Financial Stability, Tim Massad said via a statement that, "The third trading plan will allow us to continue exiting the investment in accordance with our previously announced timetable while maximizing the taxpayer's return."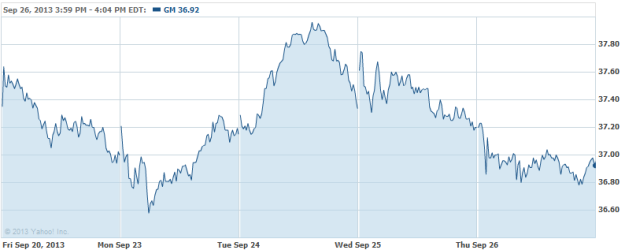 The Jones Group Inc. (NYSE:JNY): Closing price $15.64
Knowledgeable sources reported Thursday that the private equity firm Kohlberg Kravis Roberts & Co. has withdrawn from the bidding process for Jones Group, raising doubts about the prospects of the auction for the fashion and footwear firm. KKR had partnered up with another buyout firm Sycamore Partners LLC, and was the only party wanting to buy the whole company, said the sources. It was unclear if Sycamore Partners would stay in the sale process. Other bidders continued to compete for parts of Jones Group, and the company asked for new offers from prospective bidders earlier in the week.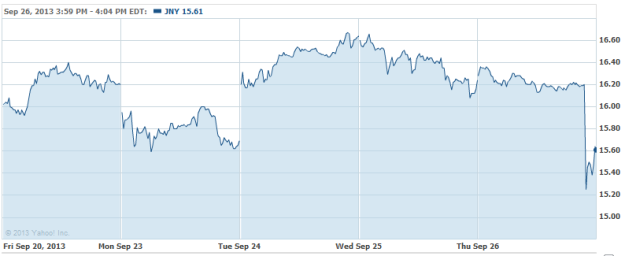 Don't Miss: JCPenney Rebounds Following Positive Word on Turnaround and 2 Other Hot Stocks to Watch