4 Consumer Stock Stories for Exciting Midweek Investment Shopping
Amazon.com Inc. (NASDAQ:AMZN): Closing price $310.53
Bloomberg News on Wednesday make rumors of an HTC-manufactured Amazon smartphone seem more true. A new report says that the two sides have held talks since June for a handset that might be sold to members of Amazon's Prime subscription service. However, Bloomberg News also reports that a definitive decision on going forward with the project "hasn't been made," nor has a release timetable been nailed down. On Tuesday, The Financial Times reported that three distinct Amazon phones are presently in development at HTC, with one of those products nearing completion.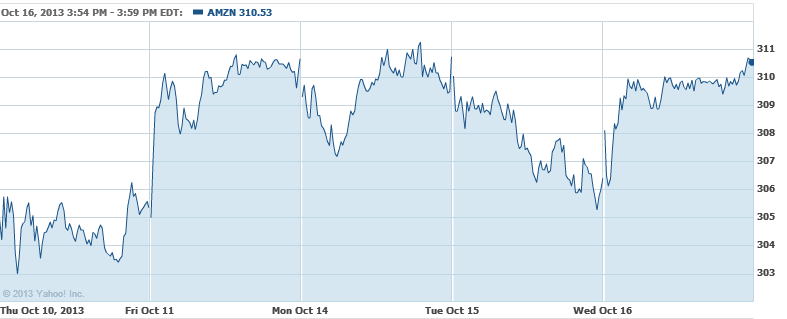 Starbucks Coffee Corp. (NASDAQ:SBUX): Closing price $78.04
On Wednesday afternoon, Starbucks released the following update concerning its Come Together petition urging elected leaders in Washington to reopen the government, pay our debts on time, and pass a bi-partisan and comprehensive long-term budget deal by the end of 2013. "Petitions are continuing to arrive from Starbucks nearly 7,000 company-operated stores in the U.S. As of 3:00 pm PT the number of signatures is approaching 2 million. Tomorrow, Starbucks will deliver collected petitions to Congress and the President." At this writing, it does appear that a bill will be passed in both houses tonight, ending the crisis — for a while.

General Motors Co. (NYSE:GM): Closing price $35.15
GM Chairman and Chief Executive Dan Akerson said Wednesday that his company will start selling a mid-sized sedan next summer that may be powered by either gasoline or compressed natural gas. The 2015 Chevrolet Impala, GM's first car powered by natural gas, will sport a powertrain that switches from compressed natural gas to gasoline seamlessly, and has a total driving range of up to 500 miles, said Akerson in a speech to be delivered at an energy summit in Washington.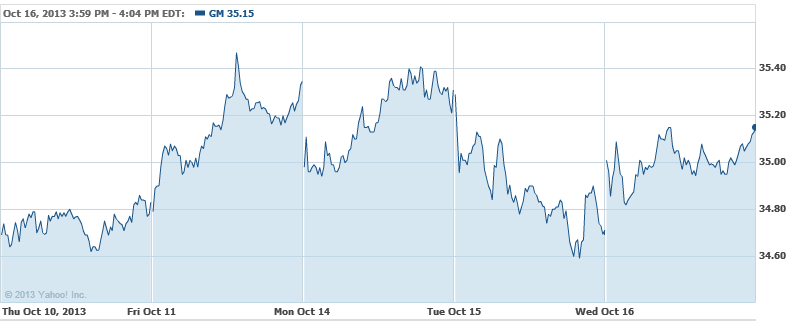 Lululemon Athletica Inc. (NASDAQ:LULU): Closing price $74.01
The present weakness in shares of lululemon is being blamed upon rumors of a short position taken by Greenlight's David Einhorn. Shares of lululemon dropped 2 percent, or $1.31, to $73.36 in mid-day trading, but closed down 0.82 percent at $74.05. This retailer is often the target of chatter of short positions by influential investors.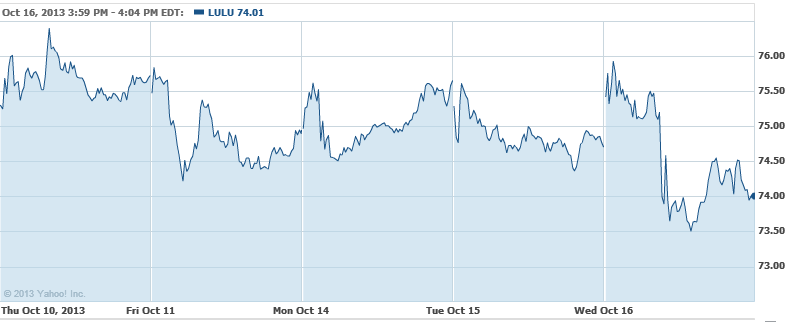 Don't Miss: Is Declining Soda Drinking in North America Hurting Pepsi?