4 Consumer Stock Stories for Friday Chatter
Sears Holdings Corporation (NASDAQ:SHLD): Current price $47.57
On Thursday, Sears Canada announced layoffs, helping to shape 2013 as a volatile and competitive year for the Canada's retail sector. Sears Canada is attempting to put the brakes on years of sliding sales and profits, as it terminates 700 employees, which will be proportioned at 360 in its department stores, 300 from distribution centers, and the rest at head office and support areas.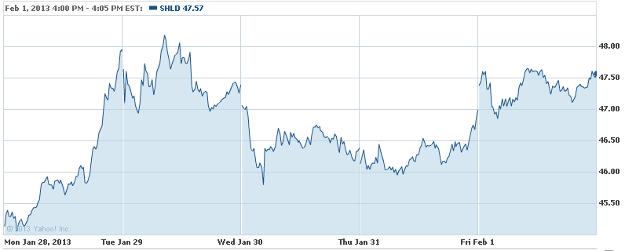 Markets are at 5-year highs! Discover the best stocks to own. Click here for our fresh Feature Stock Pick now!
Comcast Corporation (NASDAQ:CMCSA): Current price $38.60
The president of NBC News, Steve Capus, whose career there has spanned two decades, said Friday that we would step down  from his position. Capus' decision is six months after Comcast consolidated its various news assets under a centralized unit comprising NBC News, MSNBC and CNBC, and then placed the new entity under the control of former NBCUniversal executive Patricia Fili-Krushel.

Kraft Foods Group (NASDAQ:KRFT): Current price $46.57
Kraft has brought a lawsuit against the casual dining chain Cracker Barrel Old Country Store, in regards to its decision to sell certain Cracker Barrel branded products outside of its restaurants and stores, according to court documents. For its part, Kraft is seeking a marketing license agreement between Cracker Barrel and the John Morrell Food Group to be declared void because it claims that it violates its rights to the Cracker Barrel brand.

Wal-Mart Stores (NYSE:WMT): Current price $70.35
The United Food and Commercial Workers pledges to not try to unionize Wal-Mart workers, says The New York Times, which added that the union made the promise so as to avert charges of illegal picketing.

Don't Miss: Is Consumer Sentiment On the Rise?