4 Consumer Stock Stories for Investment Shoppers
General Motors Company (NYSE:GM): Current price $28.00
The reality of the first automobile factory being shut in Germany in decades is getting grudging acceptance by trade unions who are now trying to effect a relatively painless exit for workers at the Opel facility in Bochum. Output there is set to end in 2016 and a senior labor official told Reuters that the unions are hopeful in arriving at a deal with Opel parent General Motors that offers the workers at least some promise of further employment.

Are these stocks a buy or sell? Let us help you decide. Check out our Stock Picker Newsletter now.
The Walt Disney Company (NYSE:DIS): Current price $54.02
India's Network18 Group's equal joint venture with Viacom has created a partnership with Disney through which to collect  content and distribute television channels. This new partnership will be 74 perecnt-owned by IndiaCast Media Distribution, which comprises the Network18-Viacom joint venture, with the remainder held by Disney's India division, Disney UTV. No financial terms were reported.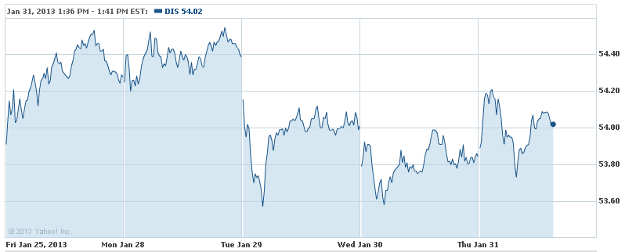 CVS Caremark Corporation (NYSE:CVS): Current price $51.24
Towards the end of the flu season, observers and analysts wonder if  drugstore businesses will have the staying power after their seasonal revenue winds down, which could impact their profits and shares. Among the top drugstore chains, only CVS is also a pharmacy benefit manager, permitting it to administer employers' prescription drug plans along with serving individual customers. More to the point, the firm expects to retain majority of the customers it gained in 2012 when a dispute between rival Walgreens and pharmacy benefit manager Express Scripts caused millions of consumers to find a new place to fill their prescriptions. CVS says that it should help increase earnings in 2013 by 13 percent year-over-year from 2012.
Starwood Hotels & Resorts Worldwide (NYSE:HOT): Current price $61.35
On Wednesday, Starwood said that its worldwide powerhouse Sheraton will launch 30 hotels during the next 12 months with half  in China, lengthening Starwood's footprint as the biggest upper-upscale hotel operator in the Asia Pacific region. Additionally, Sheraton is gaining traction in several other emerging markets, among which include Latin America, the Middle East and Turkey.

Don't Miss: Here's Why Wal-Mart is Limiting Ammunition Sales.