4 Consumer Stock Stories for Investment Shoppers
Ford Motor Company (NYSE:F): Current price $13.98
The iconic automaker will introduce a concept version of its Lincoln MKC at the Detroit auto show on Monday, representing a luxury crossover designed to assist the firm in gaining traction in a quickly-growing and profitable segment of the domestic luxury automotive market. Ford is gambling that an impressive showing in this segment will reverse a sales decline of two decade for Lincoln, which is a brand better known for the Town Car and presidential limos.
Are these stocks a buy or sell? Let us help you decide. Check out our Stock Picker Newsletter now.
United Parcel Service (NYSE:UPS): Current price $78.98
UPS and TNT have been notified by the European Commission that it is mulling a decision to disallow the proposed purchase of TNT Express by the former. Further announcements will be released once the Commission has made its formal decision, but upon prohibition, the offer condition relating to EU Competition Clearance would not be fulfilled and UPS would be required to pay TNT a termination fee in the amount of €200 million and withdraw its offer. Chairman and Chief Executive Scott Davis responded that, "We are extremely disappointed with the ECs position. We proposed significant and tangible remedies designed to address the ECs concerns with the transaction. The combined company would have been transformative for the logistics industry, bringing meaningful benefits to consumers and customers around the world, while supporting growth in Europe in particular."

The Boeing Company (NYSE:BA): Current price $76.34
The now well-known fire in Boston on a 787 flown by Japan Air Lines, intensified by other problems involving the new plane, is spooking even seasoned travelers. On Friday, United States regulators began looking into how Boeing builds the 787, but at the same time, pronounced the aircraft is safe to fly despite the recent spate of technical problems. Further, the airlines continued to operate the new jet as the review does not ground any planes or mandate immediate inspections or repairs.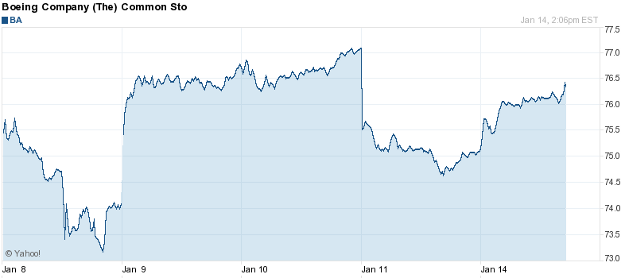 Sirius XM Radio (NASDAQ:SIRI): Current price $3.15
Sirius XM Radio must deal with the increased availability of Internet connections in more cars, which is helping Pandora Media (NYSE:P) compete for the attention of automakers, according to Reuters. Sirius gets the majority of its revenue through subscriptions, streaming service, while Pandora receives obtains most of its revenue through advertising.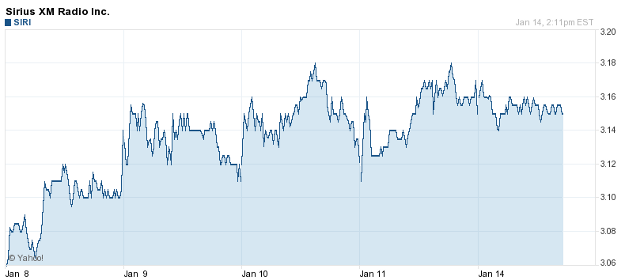 Don't Miss: Why Did UPS Lose TNT Express?