4 Consumer Stock Stories for Midweek Investment Shoppers
Tesla Motors (NASDAQ:TSLA): Closing price $104.68
Bloomberg News reports that Tesla is experiencing its very first recall, as it names 1,228 Model S electric sedans sold in the United States, to be brought in for a quality problem that might affect rear-seat passengers. The Model S cars were built between May 10th and June 8th. What might get attention is that Tesla founder Elon Musk announced the recall himself on the company blog, apologizing for the inconvenience to customers. Tesla revealed that a bracket that keeps the left-hand back seat in place could come loose, according to details from federal safety regulators.
Are these stocks a buy or sell? Let us help you decide.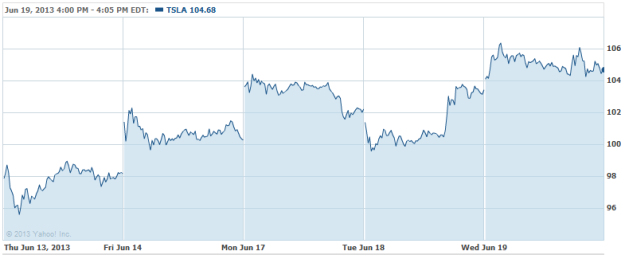 Target Corporation (NYSE:TGT): Closing price $68.88
Target pharmacies across Ontario are assisting parents in planning for a safe and positive experience as their kids take off to camp. Featuring a broad range of essentials from sunscreen and insect repellant to sleeping bags and water toys, Target says that it has everything needed for camp in one convenient location. Pharmacists are on hand to provide their expert advice on a wide array of camp-related worries, including campers who might have allergies, sensitive skin, or medication requirements.
Are these stocks a buy or sell? Let us help you decide.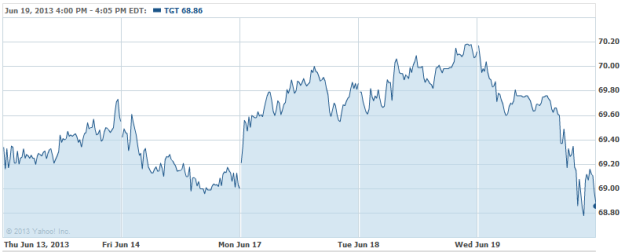 Starbucks Corporation (NASDAQ:SBUX): Closing price $66.41
Starbucks Chief Financial Officer Troy Alstead stated at the Jefferies Global Consumer Conference on Wednesday that his company's debut of  food products has been a success. The firm now has greater confidence that its food sales will continue to trend upwards, after introducing new food products in two markets. Starbucks has debuted fare made by La Boulange, the restaurant chain that it bought in 2012, at Starbucks stores in Northern California and also in the Seattle area. Alstead said that new beverages and an expanded number of Starbucks drive-through stores may also enhance the firm's performance going forward, adding that the Teavana brand that Starbucks purchased has the company poised to capitalize on "tremendous opportunities around the world for a contemporary teahouse concept."
Are these stocks a buy or sell? Let us help you decide.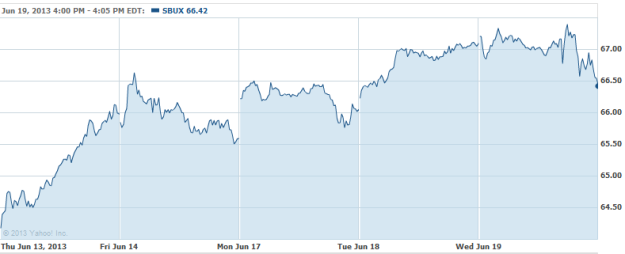 Netflix (NASDAQ:NFLX): Closing price $232.31
The online video major reports that it will expand into the Netherlands, marking its 41st market, later in 2013. Subscribers there will be able to stream Hollywood fare, local television series, and Netflix originals such as "House of Cards" and the latest season of "Arrested Development" on game consoles, TVs, computers, and mobile devices. Netflix provided no details about pricing, saying only that there would be a "low monthly price."
Are these stocks a buy or sell? Let us help you decide.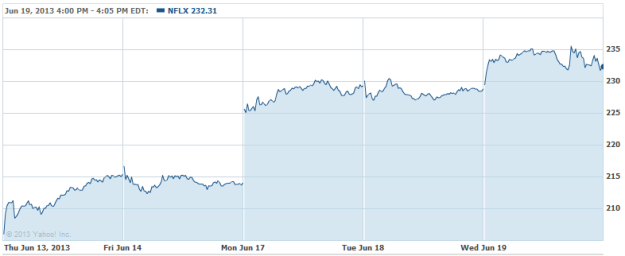 Don't Miss: Starbucks: Wake Up and Smell the Coffee (and the Calories)