4 Consumer Stock Stories for Midweek Investment Shopping
Time Warner Cable (NYSE:TWC): Current price $92.06
For the first time ever, the cable operator is adding live out-of-home programming to its TWC TV application, allowing customers to view shows on Applemobile devices. Time Warner now makes up to 11 live national news, sports andentertainment channels available outside the home, says thecompany spokeswomanMaureen Huff. The broadcasts include the Big Ten Network, the Pac-12 Network, TV Guide Network, and BBC America. What is more, customers will have access to a number of local channels that include NY1 for New Yorkers.
Are these stocks a buy or sell? Let us help you decide. Check out our Stock Picker Newsletter now.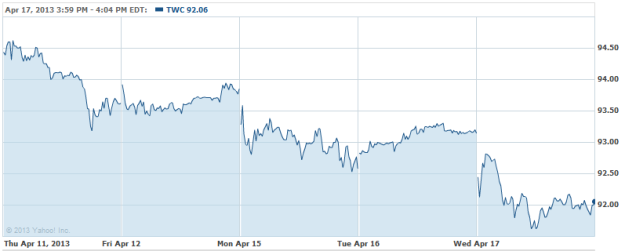 News Corporation (NASDAQ:NWS): Current price $31.13
On Tuesday, News Corporation reported that the new name of the independent media and entertainment company created by the proposed separation of its businesses, will be 21st Century Fox. The name draws on the firm's creative heritage, while also addressing the future as well as the innovation that defines its repertoire of firms. This new name supplants the previously reported name, Fox Group. The proposed company will also give premium content to millions of subscribers via its pay-television services inEuropeandAsia, which include Sky Deutschland,Sky Italiaand its equity stakes in British Sky Broadcasting andTata Sky.
Are these stocks a buy or sell? Let us help you decide. Check out our Stock Picker Newsletter now.

The Coca-Cola Company (NYSE:KO): Current Price $42.53
Coca-Cola reported a smaller-than-anticipated decline in first-quarter profit on Tuesday, and the company reported that world volumes improved in major developed markets such as the United States and Japan. Concurrently, Coca-Cola announced it is divesting some territory held by its company-operated bottling system to five independent bottlers, a move that will help the company streamline the business and focus upon expanded territories. The company reported a quarterly net income on Tuesday of $1.75 billion, or 39 cents a share, which was down by 15 percent from $2.05 billion, or 45 cents in the year-ago quarter.
Are these stocks a buy or sell? Let us help you decide. Check out our Stock Picker Newsletter now.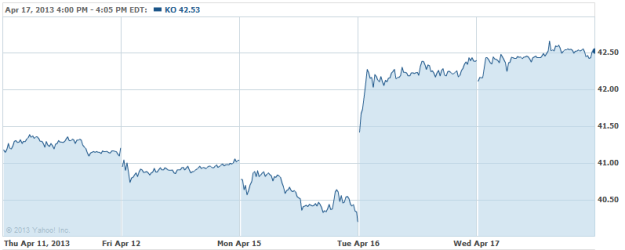 Ford Motor Company (NYSE:F): Closing price $12.92
An historic feat was made in the first quarter by Ford, as it posted
its best hybrid sales quarter ever
, with total sales standing at 21,080 vehicles, representing the first time the iconic automaker has sold over 20,000 hybrids in any quarter. Fords hybrid sales were up by a whopping 324 percent nationally over 2012 levels, attaining a 16-percent share of the electrified vehicle market, a year-over-year increase of 4 percent. Beyond that, this marked the first quarter in which Ford offered all four of its new hybrid and plug-in hybrid vehicles, which included Fusion Hybrid, Fusion Energi, C-MAX Hybrid and C-MAX Energi.