Ford Motor Company (NYSE:F): Current price $14.67
A potential unfair advantage for Ford is the center of an inquiry by European Union antitrust regulators, as they examine whether Spain's plan to offer a $32.71 million grant to Ford's plant would create such a situation. The iconic automaker is overhauling its European operations by slashing jobs and shutting plants in Belgium and also in two locations in the United Kingdom, as the economic slump lowers consumer demand for new cars and trucks. Ford holds around 8 percent of the European market, and anticipates losing $2 billion in Europe in 2013. However, the company intends to make a new model of Ford Transit Connect in Valencia. Spain informed the European Commission of its grant in 2012, and the European Commission said on Wednesday that a preliminary inquiry showed that the project might surpass the authorized 5 percent increase in output capacity in a declining market.
Are these stocks a buy or sell? Let us help you decide. Check out our Stock Picker Newsletter now.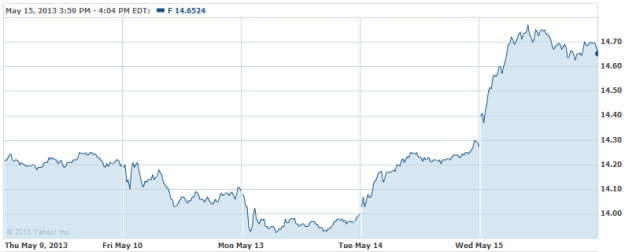 Netflix (NASDAQ:NFLX): Current price $243.40
Netflix Chief Financial Officer David Wells said on Wednesday that his firm still has some work to do in order to remake its relationship with customers. Speaking at the JPMorgan (NYSE:JPM) tech conference, Wells said that Netflix thought that the process to get customers' trust back would require about three years, and that number is probably still the case. Two years ago, the company annoyed users and lost almost a million subscribers in four months, subsequent to raising prices and taking steps to separate Netflix's DVD operations from its streaming video division. Wells noted that Netflix continues to see improvements in metrics like "likelihood to recommend" and net subscriber additions, but added, "We still feel like there's more recovery to be had. We're still mindful that any negative pricing things could set that fire off again."
Are these stocks a buy or sell? Let us help you decide. Check out our Stock Picker Newsletter now.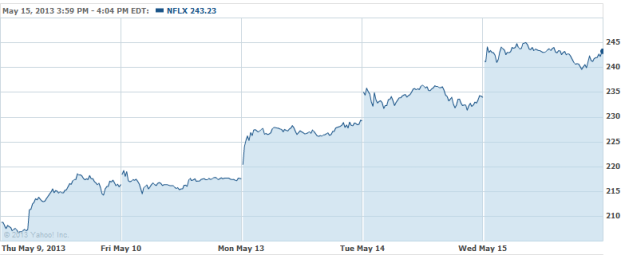 Monsanto Company (NYSE:MON): Closing price $109.22
A top company official said on Tuesday that Monsanto is going forward with plans to launch a controversial new sort of herbicide-tolerant crop, and that last week's decision by the United States government to extend its oversight of the proposed new crops should not produce a significant delay. Monsanto is establishing 20 field locations throughout the country in which to test and market its "Xtend" soybean product. Meanwhile, company officials reported that they would be working rapidly to supply the Department of Agriculture with further study data to exhibit the product's safety. The firm continues to have a target of securing regulatory clearance by 2015 or a bit after, according to Monsanto Chief Technology Officer Robert Fraley.
Are these stocks a buy or sell? Let us help you decide. Check out our Stock Picker Newsletter now.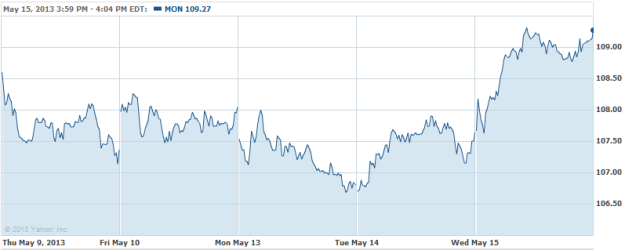 J.C. Penney & Co. (NYSE:JCP): Closing price $18.97
Penney's board has given its support to the new (and former) Chief Executive Mike Ullman, causing the New York hedge-fund tycoon Bill Ackman to lose his influence over the body, according to sources for The New York Post, who added that Ackman's new reality was obvious in April when he tried and failed to quickly replace Ullman. Ullman was chosen for the job after being thrown out by Ackman prior to the Ron Johnson hiring. The sources said further that Ackman insisted to investors and business associates that Ullman was merely holding the chair on an interim basis. as he took the liberty of interviewing a few retail 'superstars' to finish cleaning up Johnson's mess.
Are these stocks a buy or sell? Let us help you decide. Check out our Stock Picker Newsletter now.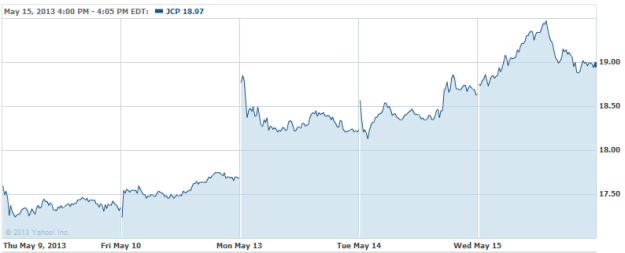 Don't Miss: Tough Retail Conditions Didn't Hurt Macy's Last Quarter.