4 Consumer Stock Stories for Midweek Investor Shopping
Amazon.com (NASDAQ:AMZN): Closing price $269.75
The company reported that it has severed ties with a German security firm over claims that its guards intimidated and harassed temporary immigrant workers that they were assigned to oversee. Executives in Germany announced the move following  a documentary last week about the working conditions of thousands of temporary workers from Poland, Spain and other European countries that Amazon hired to work in its German distribution centers during the past holiday rush.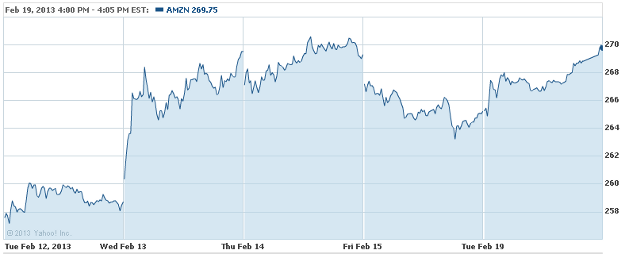 Toyota Motor Corporation (NYSE:TM): Closing price $102.50
Toyota says that a Russia-based
vehicle-assembly venture
OOO Sollers-Bussan, has begun manufacturing Toyota-brand Land Cruiser Prado SUVs at its plant in Vladivostok. The OOO Sollers-Bussan venture was established in 2010, and is half-owned half by Sollers and half by Mitsui & Co., having the capacity to initially produce about 1,000 SUVs a month.Vehicles assembled by Sollers-Bussan will be transported out primarily on the Trans-Siberian railway and sold via Toyota's dealer network in Russia. The Japanese automaker said it was providing components along with maintaining product quality through training and management support activities.

The J. M. Smucker Company (NYSE:SJM): Closing price $91.73
On Tuesday, the company said that it lowered the list price for most of its packaged coffee products sold in the United States, primarily items sold under the Folgers and Dunkin' Donuts brand names. On average, prices fell by an average of 6 percent on impacted items in response to sustained declines in green coffee costs. Dunkin' Donuts  brand is licensed to The J. M. Smucker Company for packaged coffee products sold in retail channels like grocery stores, club stores, mass merchandisers, dollar stores, and drug stores. The anouncement did not pertain to Dunkin' Donuts  coffee or other products for sale in Dunkin' Donuts  restaurants.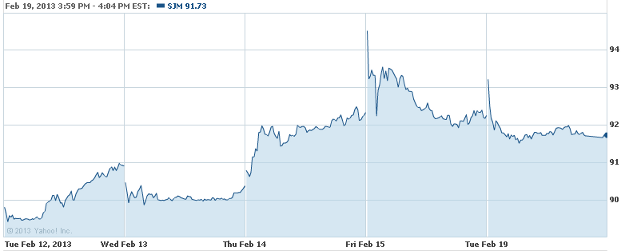 Polo Ralph Lauren Corporation (NYSE:RL): Closing price $176.95
Ralph Lauren's Denim & Supply will
debut its first United States store
this spring, but the firm didn't get a chance to break the news, because D&S signs went up on the unit on University Place in New York that the company is converting from its prior incarnation as a Rugby store, and the news promptly leaked out. A company spokesman confirmed plans for the conversion but provided no further details on what could be a domestic launch of the concept, which already has been tested with a few stores in Europe and Asia. The corporation disclosed plans to shutter Rugby back in November.