4 Consumer Stock Stories for Midweek Investor Shopping
Amazon.com (NASDAQ:AMZN): Closing price $269.75
The company reported that it has severed ties with a German security firm over claims that its guards intimidated and harassed temporary immigrant workers that they were assigned to oversee. Executives in Germany announced the move following  a documentary last week about the working conditions of thousands of temporary workers from Poland, Spain and other European countries that Amazon hired to work in its German distribution centers during the past holiday rush.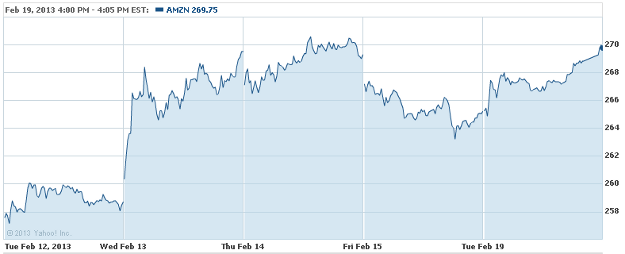 Toyota Motor Corporation (NYSE:TM): Closing price $102.50
On Tuesday, the company said that it lowered the list price for most of its packaged coffee products sold in the United States, primarily items sold under the Folgers and Dunkin' Donuts brand names. On average, prices fell by an average of 6 percent on impacted items in response to sustained declines in green coffee costs. Dunkin' Donuts  brand is licensed to The J. M. Smucker Company for packaged coffee products sold in retail channels like grocery stores, club stores, mass merchandisers, dollar stores, and drug stores. The anouncement did not pertain to Dunkin' Donuts  coffee or other products for sale in Dunkin' Donuts  restaurants.