4 Consumer Stock Stories for Savvy Investment Reading
The Gap Inc. (NYSE:GPS): Closing price $41.88
The Gap is expanding its service which permits shoppers to reserve items online and then pay for and pick up the merchandise at a store within 24 hours. The retailer starting testing the option in 40 Gap and Banana Republic stores in Chicago and San Francisco back in June. The service differs from most of the other store pickup programs because shoppers need not pay until they get to the store. Commencing this week, the company's entire fleet of U.S. Banana Republic stores, which are over 400, will offer the service. Beyond that, Gap is also debuting the strategy to more than 200 of its 700-plus namesake stores in 15 major domestic markets.

Tesla Motors Inc. (NASDAQ:TSLA): Closing price $122.24
Consumer Reports announced Thursday that the Model S had topped out its annual owner satisfaction survey. The all-electric sedan earned a satisfaction score of 99 out of a possible 100, which Consumer Reports said represented the highest in years. The vehicles that surmount the survey are typically "either fun to drive, deliver great fuel economy, are fashionably green, or envelop owners in a high-tech, luxurious driving environment," according to the company, which went on to say that the Model S "provides a combination of all those attributes."

Amazon.com Inc. (NASDAQ:AMZN): Closing price $368.92
On Thursday, Amazon announced an exclusive content licensing arrangement with new film studio A24, which is known for state-of-the-art commercial hits like Spring Breakers and The Bling Ring. This revolutionary multi-year agreement makes Prime Instant Video the exclusive premium subscription location for all of the current and forthcoming A24 titles, shortly following their release on DVD and Blu-Ray.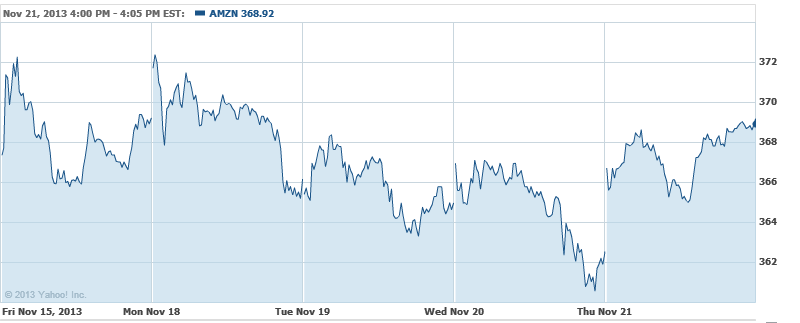 Yum! Brands Inc. (NYSE:YUM): Closing price $74.96
Yum said Thursday that it is reorganizing its business to promote greater brand and geographic focus. Effective January 1, Yum Brands Inc. will combine its Yum Restaurants International and the American individual divisions for KFC, Pizza Hut, and Taco Bell. Yum Restaurants China and Yum Restaurants India will remain distinct divisions, because of their strategic significance and sizable growth potential.

Don't Miss: Best Deals From the 5 Retailers Going Big on Black Friday Eve.